Working 19 hour-days has put me in a goofy brain-damaged kind of mood.
I finally got around to reading my email tonight and found that a young boy (with help from his mom) had written to tell me that it's not polite to chew with my mouth open.
This was scary-puzzling to me. Because not only am I'm an advocate for closed-mouth chewing, but I'm also horrified at the thought of small children stalking me. Not knowing what this kid was talking about or where he might have seen me, I wrote back and asked.
Turns out he wasn't writing to me, but to Lil' Dave...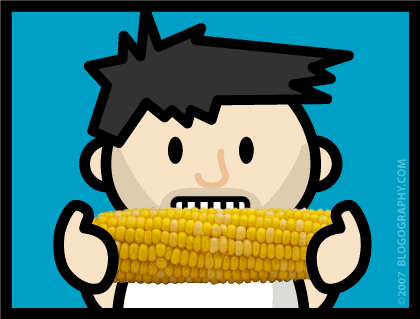 Hmmm... apparently my enthusiasm for corn is responsible for corrupting children by teaching them bad eating habits now.
See, there's a reason I tag my blog as containing adult content.