Why is it that I just can't catch a break?
Once... just once I'd like to have my travel plans work out as I arranged them without having to worry about cancellations, schedule changes, and the myriad of other disasters that seem to plague me every single time I leave home. And, of course, it's always the things that I want to do that get sacrificed for the things I have to do when things go sideways. Always. It's as if fate has dictated that all I ever get to do is work, and any time I make plans for a bit of personal happiness in-between the never-ending battle that is my life, I get screwed.
Yesterday I made a short video for Bullet Sunday that I was unable to get uploaded because YouTube kept dropping me. At the time I made it, I was totally joking about how I got through my day... but after this morning, I'm wondering if this is a viable solution to making my crappy life bearable...
Now I have to get ready to go to the dentist.
And because going to the dentist is such big fun, naturally nothing comes along to change those plans.
As always, a video transcript follows in an extended entry...
VIDEO TRANSCRIPT START
I go to the mini-mart to buy me a Colt 45 Malt Liquor so I can get through the day.
I grab the big can off the shelf. I go all the way back to work. And when I go to pop the cap on it, I notice that it;s not Colt 45 Malt Liquor after all. It's Big Coke. BIG COKE!!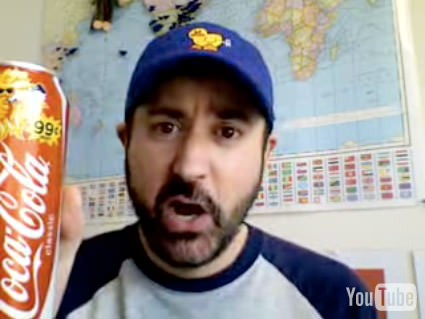 Why are they putting Coke in Colt 45 cans? It's very confusing to the consumer who relies on Colt 45 to get through their day!
VIDEO TRANSCRIPT END