It's an early edition of Bullet Sunday, because I'll be working my ass off all day trying to get caught up on the work I missed from my allergy attack on Friday.
• Pride Weekend. This weekend is host to Pride Weekend parades in many cities (including Seattle, San Francisco, Chicago, and more). It's a totally fabulous annual celebration of lesbian-gay-bisexual-transgender life and history. Taking a cue from a wonderful entry over at Sizzle Says, I thought I'd blog my support for the GLBT community since I am unable to show up and offer my support in person. I have too many friends being treated like second class citizens because of who they are and I'm sick of it. When people are being persecuted and discriminated against unjustly, something needs to be said. I'm happy to add my voice to the party. Bad Monkey, however, just wants an excuse to get drunk and run around naked...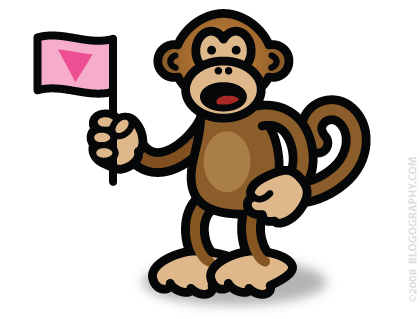 • Aptly Named. The reason my real name is on my blog is because when I started I didn't know any better. Also, it was originally written specifically for my friends and family so they could keep up with where I was and what I was up to. I never dreamed that other people would want to read it. Things kind of escalated from there, and it's too late to do anything about it now. So when I read crazy speculation to the contrary by people who don't even know me... part of me finds it mildly amusing. The other part doesn't.
• Shel Puppet. When noted social media author and consultant Shel Israel was given a video channel at Robert Scoble's FastCompany.tv, it ended up being a train wreck of near-biblical proportions. The interviews he posted there gave entirely new definition to the word "disaster" and the "blogging pros" were merciless in their criticism. Instead of chalking it up as a learning experience, Shel Israel came unhinged when parody videos started popping up by Loren Feldman of 1938 Media, starring Shel Israel... THE PUPPET! The videos were everything that the "real" Shel Israel videos were not... smart, insightful, and entertaining. But yesterday it was announced that Loren would stop posting the videos, having made his point. I'm a little sad about that, because I've grown to love Shel Puppet and his kick-ass videos! Here's one of my favorites, where he interviews Digg's Kevin Rose...
• Mostly Frozen. With the weather as hot as it has been, I find myself eating a lot of frozen foods. And I don't mean frozen foods that are cooked. I mean ice cream for breakfast, frozen candy bars for lunch, and popsicles for dinner. I'd try to justify this unhealthy and very odd behavior, but my Chips Ahoy cookies should be frozen by now, and I need a bedtime snack.
• DC Sucks. Somebody had to say it... DC Comics officially sucks ass. I am just sick over how frakin' stupid things have gotten with my once-favorite comic book company. Continuity is a convoluted mess that's been screwed over with so many revisions and ret-cons that it's incomprehensible. I pity the new reader wanting to start into comics who is unfortunate enough to try and pick up a current issue of most any DC book. They finally streamlined their "universe" with the groundbreaking Crisis on Infinite Earths, only to completely destroy everything in the years that followed (don't even get me started on 52, Infinite Crisis, and Countdown, which were tragically bad). The last straw for me is yet another incomprehensible "DC Event" called Final Crisis. Not only is it another confusing suck-fest of a mess, but I've just learned that YET AGAIN the art chores are changing mid-story. WHAT THE HELL? IS NOBODY STEERING THE SHIP AT DC?!? Rumor has it that Editor in Chief Dan DiDio is going to be replaced, and it's about fucking time. It's going to take some major, major changes to salvage what's left of DC Comics. Hopefully they find somebody with the balls (or ovaries!) to do the job. If DC can ditch the floodgates of quantity that have replaced the superior goal ofquality, things can be good again.
And now I suppose I should get some sleep so I can wake up early and get shit done.
Hopefully my allergies will cooperate.