Everybody has a thing.
My thing is to draw cartoons on my blog.
Some people's thing is being able to tie a cherry stem in a knot using their tongue. Other people's thing is being able to talk backwards. Still other people's thing is to urinate in public places. "What is Reggie doing?" — "Oh, he's peeing in public... that's his thing." Yes, everybody has some kind of minor talent that they become known for, and it gets labeled "their thing."
After the tragedy in trying to get a veggie burger at the Johnny Rockets restaurant in University Village yesterday, I decided to ride the SLUT (Seattle Lake Union Trolley) down to Pacific Place and try the Johnny Rockets there. As I was walking by Nordstroms, I noticed a woman in a Seattle Seahawks jersey randomly saying "fuck you" to passing people.
Apparently that's her thing.
"FUCK YOU! — AND FUCK YOU! — AND FUCK YOU! — AND DEFINITELY FUCK YOU, YOU FUCKING MUTHAFUCKER!!"
It was actually quite charming at first. But then I started thinking about the rough day I've had, and suddenly found myself undergoing a major philosophical shift. "Holy crap!," I said to myself, she's absolutely right! FUCK YOU EVERYBODY!!"
And I'm starting with those fuckers at the Webkinz eStore.
As Blogography readers know, I was given a Webkinz pet monkey by Ninja Poodle's daughter. Along with the physical stuffed animal, you also get to play with your pet online at Webkinz World, where my monkey looks like this...
Every day I have to login and play with my monkey... feed my monkey... help my monkey work in his garden... buy my monkey new toys... and so on. Knowing that I was going to be traveling for five months straight, I decided to have Zack, the nephew of a friend, check in on my monkey from time to time to make sure he doesn't die or something. The kid has a half-dozen Webkinz of his own, and they're all still alive, so I figured he was the man for the job. As a thank you, I bought him some stuff from the Webkinz eStore that he could give to his own pets.
After a couple days, I got a call from Zack letting me know that he liked the pirate ship bedroom I had built in my little corner of Webkinz World, and then told me that I should really buy the eStore Suit of Armor for my monkey because it would be really cool. When I visited the store, I agreed the armor looked pretty sweet, and paid $7.00 to buy it. I then emailed the purchase code to Zack so he could armor-up my monkey.
The next day I get another phone call. "The armor is broken! The gloves are missing and monkey looks lame! If he were to get in a fight, his arms would be cut off!" This was surprising, because when I bought the armor, it showed a full-suit. But when I logged in, I saw exactly what Zack was talking about. In reality, the armor looks nothing like what the picture showed, and my monkey was indeed now LAME...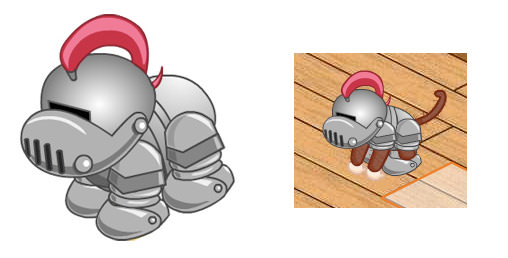 So I wrote a complaint to the Webkinz eStore. Nobody wrote back, so I wrote another complaint. Today, they finally contacted me back... not by email, but by phone. They called me! After explaining the problem, the woman on the line basically told me "tough shit." The monkey doesn't have four paws, so the armor is going to look different on him. She then told me that maybe they would work on a way to show people what the armor would look like on the various pets so customers could make a more informed buying decision, but that's all they're going to do. They were not going to refund my $7.00.
Needless to say, this made me very pissed off.
I don't give a crap if my monkey doesn't have four paws... give him some gauntlet gloves instead then! That is, after all, how they advertise the Suite of Armor on the front page of their site when they say "Get your FULL armor here!"...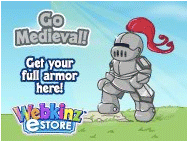 This is false advertising. My monkey does NOT have a FULL suit of armor! They LIE to people so they can rob them of $7.00, then send them some lame armor that looks NOTHING like what they are selling! It's a classic bait and switch con game and is ILLEGAL! But Webkinz is a popular and wealthy company, so they don't feel they owe their customers shit, and lying to everybody is perfectly okay.
WELL FUCK YOU!
It is so ON...
I'm just getting started on your lying Webkinz asses. You have no idea who you are fucking with...