While watching Steve Jobs give his keynote at Apple's World Wide Developer's Conference a few days back, I had a Twitter search running to see people's reactions to what was going on. It was at that time a dumbass twittered something so profoundly stupid that I was compelled to click through and see if he was just trying to be funny... or if he really was that idiotic.
Not shockingly, he really was a complete and total dumbass.
Not that I'm for censorship or anything, but shouldn't there be some kind of way to shield yourself from dumbasses on the internet? Because nothing ruins your day faster than being caught unaware by fucking idiots. And what a waste of time!
With this in mind, I am seeking venture capital for a proposed new application and service called DaveGuard™...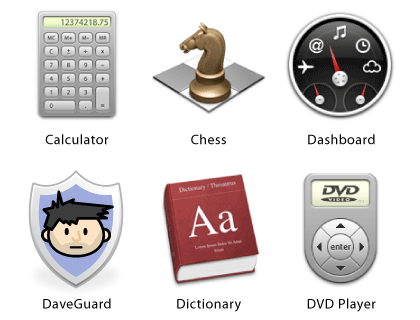 The way it would work is like this: After installation, you'd be presented DaveGuard™ options under your internet protection settings...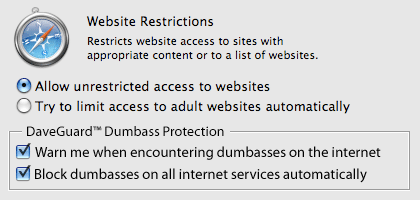 If you choose to be warned when dumbasses are detected, you'll be presented with a warning dialog that's integrated into your various internet services. This way, you can choose whether or not you want to waste your time on a dumbass before you accidentally start reading their bullshit...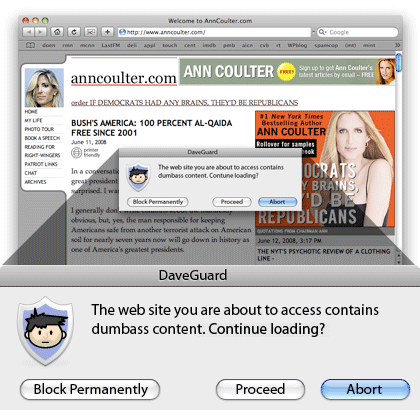 If you select automatic blocking, you won't even see dumbass content on your internet services... like Twitter, for example...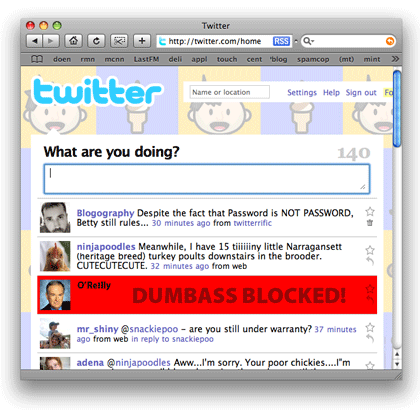 Eventually I would want to create additional protections that could be activated. Like LOLCat warnings...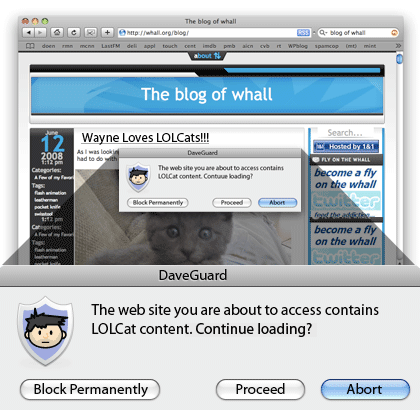 As you can see, DaveGuard™ would be an invaluable service. Because, seriously, ask yourself how much time you waste every day with dumbasses on the internet. One hour? Two hours? FIVE HOURS?!? Wouldn't your life be infinitely better if you could avoid the dumbasses altogether? Just imagine how awesome this New World Internet would be! Stupid bitches? BLOCKED! Raging morons? GONE! Idiotic bastards? ELIMINATED! Sound too good to be true? It is too good to be true! It's DAVEGUARD™!!!!
My DaveGuard™ Dumbass Detection Algorithm™ concept is revolutionary. All I need is 6.8 billion dollars to develop it! That may sound like a lot of money, but think of the results! PRICELESS!!
So if you have 6.8 billion dollars hanging around (that's 2.4 million in euros), I can accept Visa, MasterCard, PayPal, or personal check... contact me today!