My day was pretty much this: "No... I didn't watch the season finale of Lost. Thanks for asking."
I dropped the insanity of Lost after the "PUSH THE BUTTON" stupidity of 2005. Big questions were never getting answered, and the entire show consists of adding even more questions that probably won't be answered either. What's the point of watching if there's no pay-off? Hopefully, for the sake of those still devoted to the show, they wrap it up at the end. As for me? I'm done.
But not done with television. Because even though many shows have just ended their seasons, there are some most excellent shows coming up with fresh material this summer...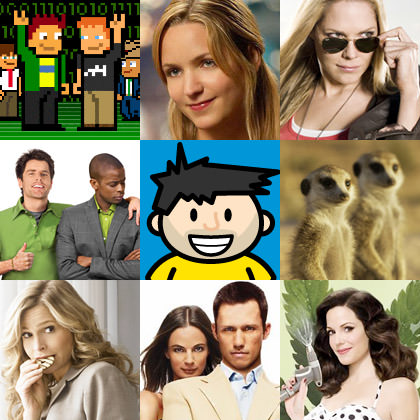 SUNDAY, JUNE 1st: Code Monkeys 2nd season premiere on the G4 Network (official site).
This animated show is lovingly rendered in faux old-school 8-bit graphics, and tells the story of coders working at an 80's video game company. Always entertaining, Code Monkeys is, at it's best, hysterically funny and even raunchier than South Park. If you are even remotely attuned to 80's geek culture, this is a must-see.
SUNDAY, JUNE 1st: In Plain Site series premiere on USA Network (official site).
I fell in love with Mary McCormack when she joined the cast of The West Wing as National Security Advisor to President Bartlet. When that gig ended, I always wondered where she'd turn up next. Turns out she's a US Marshal for the Federal Witness Protection Program. Cool enough. My hopes are running high, and I'll definitely be tuning in.
FRIDAY, JUNE 6th: Meerkat Manor, The Next Generation 4th season premiere on Animal Planet (official site).
Some of the hottest soap opera action ever to air on television just happens to star little fuzzy animals. Life, death, sex, loyalty, romance, betrayal, jealousy... and a never-ending struggle for survival... it's all here on Meerkat Manor. Shockingly addictive television that will ensnare you like few shows can, the third season replaces Sean Astin with Stockard Channing as narrator. Hopefully the drama is one thing that won't be changing.
THURSDAY, JUNE 12th: My Boys 2nd season premiere on TBS Network (official site).
A show that took me completely by surprise, My Boys is a comedy about a female professional sportswriter named PJ and the "boys" she's friends with. It's really well-written as far as comedies go, but the reason I love it so much is because the show is completely ingrained in its Chicago setting. The city is practically an 8th character. The first season ended in a massive cliffhanger that has had fans agonizing for months, and I can't wait to see what happens next.
MONDAY, JUNE 16th: Weeds 4th season premiere on Showtime (official site).
The show about pot-dealing widow Nancy Botwin just keeps getting better and better. What started as a fairly simple and straight-forward series has rapidly evolved to an intricate and complex drama with some of the darkest humor found to date. Showtime is promising that the 4th season will head in an entirely new direction, which both worries and excites me at the same time.
THURSDAY, JULY 10th: Burn Notice 2nd season premiere on USA Network (official site).
Another series that grabbed me from the first episode, Burn Notice is a clever reinterpretation of MacGyver, this time as a spy who is abandoned in Miami and has to put his skills to use in a new line of work. As if that wasn't cool enough, Bruce Campbell and Gabrielle Anwar round out the cast.
MONDAY, JULY 14th: The Closer 4th season premiere on TNT Network (official site).
Kyra Sedgwick is riveting as LAPD Deputy Police Chief Brenda Johnson, heading one of the best ensemble casts on television. I worry about the cases getting a bit repetitive, but they always seem to have enough interesting stuff going on in the periphery to keep the show from getting boring. As an added bonus, the lead out for this show is Saving Grace, the Holly Hunter vehicle that adds a new kind of bizarre to crime television.
FRIDAY, JULY 18th: Psych 3rd season premiere on USA Network (official site).
By all rights, this show about a fake Psychic detective should be worn out and buried by now (much like I consider Monk to be)... but somehow they manage to keep things fresh. This season, they cast Cybill Shepherd as Shawn's mom, so there's new season freshness right there.
There's something good on television!