I spent half the day trying to figure out my schedule for the next four months and didn't get very far.
It's depressing how quickly the days fill up.
But it's not all bad news. The best thing about all the travel I do is getting to meet up with Blogography readers and fellow bloggers along the way...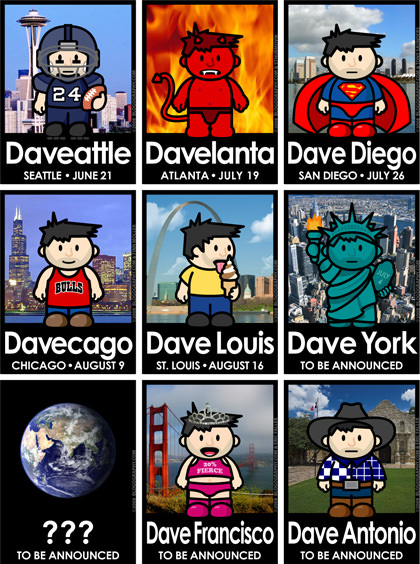 If anybody wants to join in, I'll confirm dates about three weeks ahead of time. Watch this space!
Daveattle 2 • June 21, 2008. You would think that my close proximity to Seattle would have us at Daveattle 36 about now, but every trip to the Emerald City seems to be packed full with work and stuff, so it's not as easy as you might think. Still, last year was big fun, so I'm making time to do it again.
Davelanta 2 • July 19, 2008. Dave-Devil went down to Georgia, he was looking for Coke with Lime to steal. He was in a bind 'cos he could not find the elixir that makes him squeal. Oh well, he did meet with Beth and Kevin, and is looking forward to visiting again.
Dave Diego • July 26. I'll be taking a break from ComicCon to goof off with my SoCal blogger peeps.
Davecago 3 • August 9. The third year of eating, drinking, and blogging in The Windy City!
Dave Louis • August 19. The Grand Prize Winner of Blogiversary 5, Ajooja, has selected St. Louis (home of the first ice cream cone!) as the venue for his event. Maybe this time I will finally make it up that Gateway Arch!
Dave York 2 • TBA. I will be going back to New York sometime, and will undoubtedly try to work up some kind of blogger meet in The Big Apple.
??? • TBA. I have this strange empty spot on my calendar moving around in September. I might need to take a little bit of vacation time here, but have no idea where it will be yet.
Dave Francisco 2 • TBA. I don't currently have a trip scheduled for San Francisco, but expect there will be one in late September or early October.
Dave Antonio • TBA. At some point before the year is out, I need to make a trip to San Antonio. Hopefully people in the Austin-San Antonio area will feel like tearing up the RiverWalk for some TexMex dinner, margaritas, and blogging fun!
In addition to all that, I am planning on showing up at Avitable's Halloween party on November 1st, and have five other trips that are squeezed in-between the ones listed above.
I'm tired just thinking about it all.
But definitely looking forward to meeting new friends and re-connecting with old ones!