I've had a few comments, emails, tweets, and such asking me if the Blogography Playing Cards feature any material inappropriate for children. The answer is no. They originally featured some violence back when I was ordering 200 decks, but once I decided to order 1000+ decks, I needed to change my plans so that the playing cards had the broadest audience possible. This involved re-drawing fifteen cards, but I think the end result is worth the effort because now everybody can play with them.
As an example, in the Bad Monkey sci-fi story I've shown, the purple tentacle monster originally bites the head off the red-shirt monkey on the 7 of spades (isn't that what always happened in Star Trek?). But once I realized kids would be playing with the cards, I had to come up with something different. The "horror" story that runs on the clubs cards involved the most changes... it was kind of gory, so I had to start over from scratch to make it kid-friendly. Still a cute story though. The diamonds "adventure story" cards required no changes, and the hearts "romance story" cards only needed one change.
What I'll probably do is post the original vs. new illustrations on my blog once the decks have all been shipped (don't want to spoil the stories!). That way everybody can see how the playing card project changed from when I first designed it.
I am really excited to get my hands on these cards. Creating them has been the most fun I've had on a graphic design project in quite a while.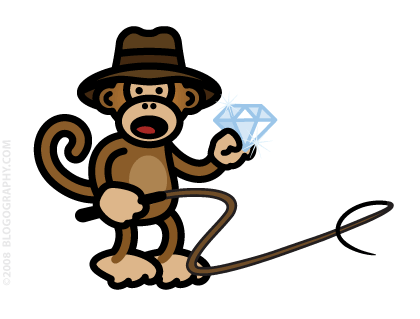 Right now I am clinging to the fun I had on the project, because I'm in the middle of paying my medical bills for the emergency room visit I had last month. I'm going to end up paying over $1,900 for something that could have been solved by renewing my $13 prescription for pain medication.
Oh well.
Who needs rent money or food when I have kidney stone memories?
They last forever!