I've been getting a steady stream of comments and emails from people asking questions about TequilaCon. Since Jenny appears to still be in recovery, I've done my best to answer them.
How did TequilaCon get started?
Jenny gave a brief overview when she announced TequilaCon 2006. In summary, to quote Admiral Ackbar... "IT'S A TRAP!" Jenny tricked two fellow bloggers into meeting her in Chicago.
How many TequilaCons have there been?
Four... Chicago (September 26th, 2005), New York (May 7th, 2006), Portland (March 10th, 2007), and Philadelphia (May 3rd, 2008).
Who decides where TequilaCon is going to be held?
Co-cofounders Jenny and Brandon make the decision in consultation with the Official TequilaCon Planning Posse.
Where is the next TequilaCon going to be?
If Jenny knows, she's not telling! She usually makes a final decision and posts an announcement three months or so before the event so everybody wanting to attend has time to make plans. The location seems to bounce between the East Coast, Mid-West, and West Coast, so I'm guessing next time won't be in the East (since there was just a TequilaCon in Philadelphia).
Any chance for a TequilaCon outside the USA?
I'm guessing no, but never say never! TequilaCon is mostly attended by US bloggers, so having it outside of the US would make it difficult for past TequilaConners to attend. Maybe Jenny and Brandon will decide to have an international "satellite event" in addition to TequilaCon one year but, so far as I know, there are no plans for it.
Is TequilaCon an invitation-only event?
Nope! Anybody can come. All you need to do is send Jenny an email once she opens registration so she knows how many people are going to be there. Watch her blog over at Run Jen Run for news and TequilaCon happenings.
Can I bring my spouse/lover/friend/significant other?
If you think they won't be bored hanging out with bloggers all night, then sure! Be sure to include your +1 when you send Jenny your registration info.
How much does it cost to attend?
To attend the event itself has been free. But your travel expenses, lodging expenses, and any expenses at the event (food, drinks bowling, whatever) are your responsibility.
If I don't have a blog, can I still attend?
If bloggers you'd like to meet are going to be there, then sure!
If I don't drink alcohol, can I still attend? What if I don't like tequila?
Of course you don't have to drink tequila (or any kind of alcohol at all!) to attend. But please keep in mind that this is TEQUILACON and alcohol will be served. Drunken behavior will ensue. If this bothers you, then you may want to reconsider attending... the last thing anybody wants is for you to be uncomfortable.
Why name badge lanyards?
The first TequilaCon I attended (#3 last year) was held at The Kennedy School in Portland, OR. This was an amazing venue for the event, but it's huge. There was some concern that people showing up wouldn't be able to find fellow TequilaConners amongst the crowd of people, so I decided to make name badge lanyards. Once TequilaCon was over, they made a fun memento of the event, so I decided to make them again this year.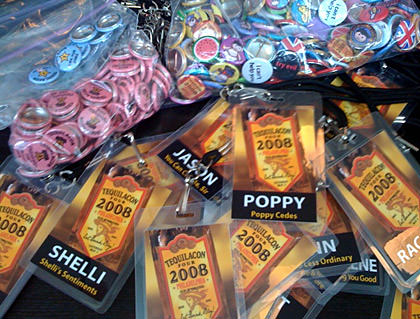 What's with the buttons?
Lanyards themselves are kind of boring, so I bring lots of button "flair" so people can customize their name badges to suit their individual tastes. It's just something fun to do. There are three kinds of buttons, as you can see here being modeled by Jenny as she drops "Blue Steel" on you...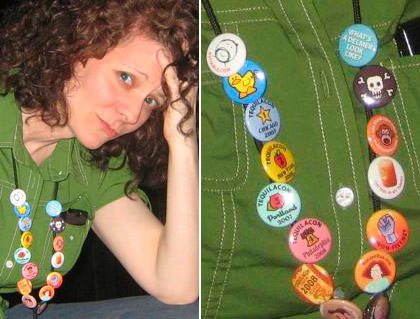 Alumni Buttons... You get these for attending past TequilaCons. Jenny, having attended them all, has Alumni Buttons for Chicago (#1), New York (#2), Portland (#3), and Philadelphia (#4).
Blogger Buttons... If I've met you before, I reward your awesome Dave Numberness by giving you a baggie of custom buttons made just for you and your blog. Jenny here has buttons she traded with Avitable, Karl, Miss Britt, Herself, Vahid, Dustin, Me, and Delmer.
Ducky Buttons... Jenny is sporting three buttons from the Artificial Duck Co. Store... Wind-Up Duck on Blue, TequilaCon Poster 2008, and Skull & Crossbones on black (because Jenny is bad-ass and rolls like that).
What happens to the lanyards made for people who don't show up?
The lanyards are a take-home souvenir of the event. If somebody didn't show up, their lanyard is destroyed.
And, lastly, a question asked specifically of me...
Are you mad at people who said they were coming to TequilaCon, but didn't show up?
No. Well, maybe. If somebody got sick or had something come up at the last-minute, then of course I'm not mad. That's life, and shit happens. But I will admit to being a little upset with people who know in advance that they are not coming and didn't bother to let Jenny know so she can tell me not to make them a lanyard and buttons. The materials to make this stuff costs money, which I'm happy to donate, but I don't like throwing money away when I don't have to.
And that's all she wrote! More TequilaCon photos have been added to the Flickr Group pool, so if you want to see what all the fuss is about, here's the link.