After skipping Bullet Sunday last week to announce the winners for Blogography's Kick-Ass Fifth Blogiversary Celebration, I'm back and fully loaded in Newark, New Jersey!
• Shop. My apologies for everybody who has been patiently waiting for the Artificial Duck Co. Store to re-open. TequilaCon kind of took priority after I found out that I would have to change all the shipping rates now that the post office is raising prices again. When I get back tomorrow night, I'll get to work on that and (finally) open the store for business. Hopefully you'll find it worth the wait.
• Edgeless. AT&T's "Edge" data network for my iPhone has always been crappy. It's painfully slow. Even worse, you can never tell if your connection has stalled, or is just running slower than usual. But this weekend AT&T reached new depths of f#@%ing shitty service in that there was NO Edge service in downtown Philadelphia all weekend. I can only guess that things keep getting worse because more and more people are buying iPhones and overloading the network, but I don't give a crap about that. I pay a chunk of money every month to have mobile internet access, and AT&T is failing to provide it. If things don't change soon, I smell a lawsuit (if there isn't one underway already). FAIL!!
• New Yorked. The problem with visiting New York City is that there is never enough time to do all the things you want to do. As I am getting ready to leave, I find myself wanting just one more day back in the city. Or a week. Possibly a month. Why oh why can't I have billions of dollars so problems like this weren't an issue?
• Tequila. Ah yes. TequilaCon 2008. It's practically impossible to sum up in a mere bullet point just how awesome an experience it was. Meeting so many bloggers for the first time was cool, of course... but what made this year such an epic success story was how great everybody was. So nice... so friendly... so much fun... such a terrific bunch of people... it was impossible not to feel as if you were amidst long-time friends. Which, of course, many of us already were (albeit virtually). And, by the end of the night, everybody became. I continue to be amazed at how every blogger event I've ever been to has been so fantastic. And TequilaCon 2008 is easily the top of the heap. A huge thank-you to Jenny for pulling it all together again this year. You are amazing...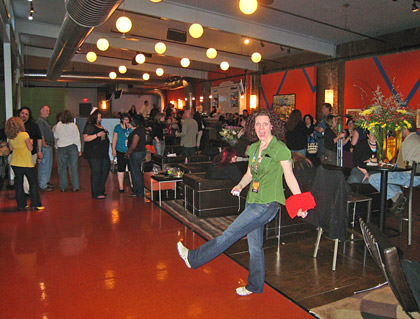 Jenny celebrates TequilaCon Rockettes' style! We love you Jenny!
• Photogenic. Many of my photos have been uploaded to a set on my Flickr account (which you can find here). Jenny has also set-up a Flickr Group Pool where everybody can upload their photos (which you can find here). If you attended and have photos to share (be kind!), please contribute!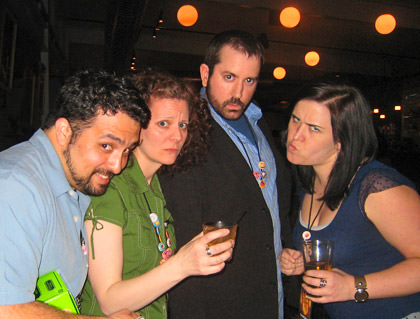 Blue Steel, baby! My brutally hot sexiness cannot be denied!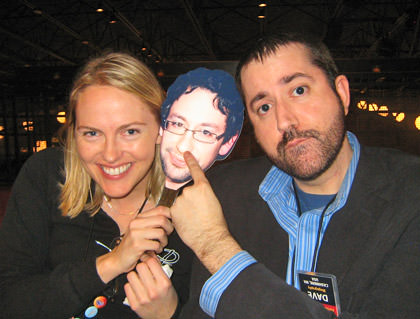 Dee Dee and I lend a helping-hand to TequilaCon co-founder Brandon!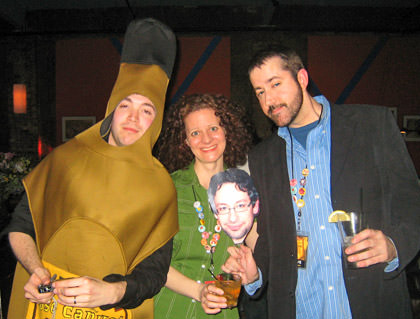 It's Tequila Man! And, yes, we are all completely sober in this shot!
And now, it's time for bed. Where I am sure to be dreaming about TequilaCon 2009.