w00t! Today it's Bullet Sunday from one of my favorite cities: CHICAGO!!
• Johhny. After struggling to catch up with work all morning, I decided to take the train into the city... even though the CTA has both the Blue-Line and the Red-Line under construction. A Johnny Rockets veggie burger was calling me. And since Chicago has one of my favorite restaurants in the chain, it would be worth the effort. Imagine my surprise when I get there to find that my beloved Johnny Rockets on Rush Street had CLOSED!! I was equally sad and enraged, and I don't think I'm ever going to recover. Goodbye Johnny, you will be missed...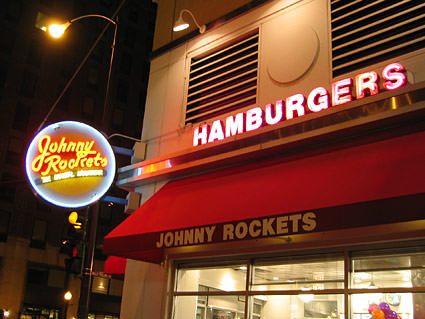 • Beautiful. I looked out the window and was happy to see that the weather had cleared up from the overcast skies and rain we had last night. It was beautiful out! Unfortunately, looks can be a bit deceiving, because it was actually chilly and windy. Fortunately, I had a jacket with me out of habit, because how would you expect to be cold on a day like this?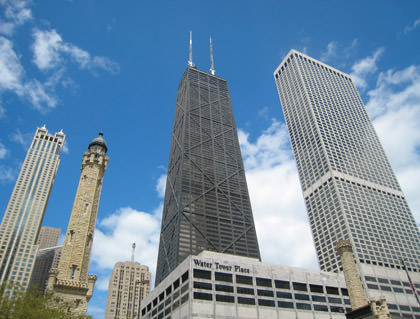 • Bean. After getting a surprise call from a former co-worker and meeting for coffee (her) and hot cocoa (me)... I met up with friends who were in the city from suburbia to do some shopping and go see Speed Racer (my review of the film along with reviews for two other movies I saw on the plane follows below). From there I decided to meet up with a current co-worker for dinner at the ever-excellent Pizano's Pizza and a walk through Millennium Park. I can't get enough of The Cloud Gate "Coffee Bean" sculpture, which was looking especially cool today...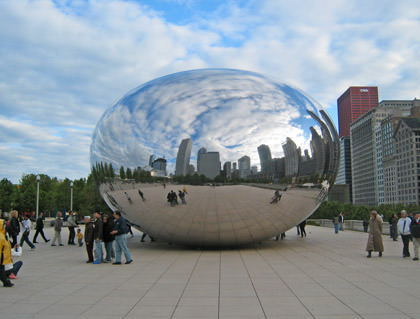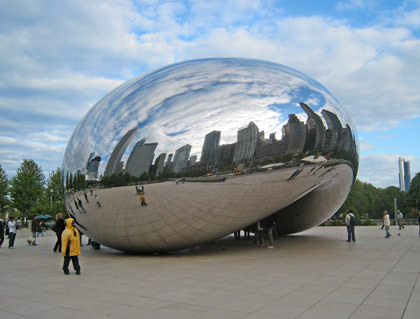 • Movie #1: Jumper. One sentence review: A great concept diminished to a bucket of shit that not even Samuel L. Jackson can save. Didn't we suffer enough when Hayden Christensen played Anakin Skywalker in the shitty Star Wars sequels? NOTE TO FILMMAKERS: THIS GUY CANNOT ACT! STOP CASTING HIM IN MOVIES! But even putting the horribleness of Mannequin Skywalker aside, this is a mess of a film. Our story begins when young David Rice discovers he has the ability to teleport anywhere in the world he can visualize. This is handy, because his mother abandoned him to live with his abusive father, and "jumping" provides him with the escape he's been longing for. Using his new-found power to rob banks and live a life of excess that spans the globe, things go terribly wrong when jumper-hating "paladins" (led by Samuel L. Jackson) start hunting David... AND THE AUDIENCE DOESN'T FUCKING CARE! The story then turns into sheer idiocy, and I was salivating over the thought that Samuel L. Jackson will actually kill the stupid bastard. By the time the lame-ass "twist ending" was revealed, I was cursing the moment I decided to watch this joke of a film. FAIL!
• Movie #2: The Bucket List. Once sentence review: Brilliant performances rises above a pandering and fluff-laden script. Two of my all-time favorite actors? Jack Nicholson and Morgan Freeman. I will watch anything they appear in. To have them both in the same film is absolute magic. The story is about a curmudgeon millionaire (Nicholson) and a genius garage mechanic (Freeman) who discover they have fatal illnesses which compel them to live their final days doing all those things they never got around to doing in life. The resulting ride is a fun one, mostly because the banter between the two leads is so fantastic and the acting note-perfect. If only the script could have been tightened to eliminate some of the more overtly manipulative sentimentality, it could have been elevated to greatness. As it is, it's a good film that tries too hard to find the "fun" side of death. WIN!
• Movie #3: Speed Racer. One sentence review: Complete and total failure of filmmaking on an epic scale that utterly devastates a beloved classic cartoon. What the hell happened? I have been looking forward to this film ever since I first glimpsed the previews that hit the internets. I was expecting a full-throttle, hyperactive film that pushes visual effects to new levels while redefining a childhood cartoon I loved. What I got was crap. A boring snore-fest of a movie that has shit-loads of stupid exposition and unnecessary drama that undermines any excitement you might get from the actual racing scenes (which are, admittedly, cool in a repetitive video-game kind of way). Just as the Wachowski Brothers managed to fuck-up an unfuck-upable franchise with the awful Matrix sequels, they have turned Speed Racer into a meandering, directionless film that sucks so badly that all the acting talent in the world (including Susan Sarandon, John Goodman, and Christina Ricci) can't keep it on track. Between the never-ending cut-wipe transitions that make you want to scream... and way, WAY too much time devoted to a mindless plot about evil businessmen secretly controlling all the world's racing events... it was all I could do to keep myself from walking out of the theater. EPIC FAIL!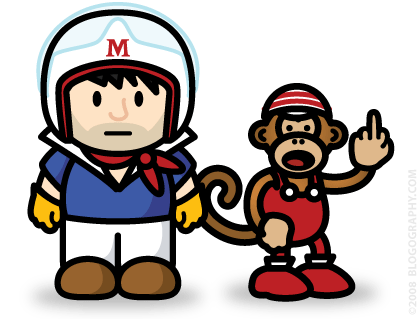 And that brings to an end another Bullet Sunday.
I totally should have watched Iron Man again.
• P.S. Every time I stay at a Sheraton hotel, the internet connection screen always has a photo of a guy smelling a melon. Can anybody tell me what the hell this has to do with anything?