As far as Mondays go, this one wasn't too bad. Though that's not to say there wasn't excitement. As anybody who follows my Twitter feed already knows, not only did I survive my Evil Driver trying to kill me... but I also fell in love with a girl on the train, found out that TinyURL can be used for diabolical purposes, and went broke because Howard compelled me to spend the last remainder of my bank account on music by The Weepies.
Being able to have access to the real internet at all times with iPhone has opened up entirely new opportunities for avoiding boredom while traveling or attending meetings. Not only can I update Twitter all day long, but I can also keep up with blogs quite easily (though, unfortunately, leaving comments with iPhone is a bit problematic... sorry about that).
I only wish that iPhone had a REAL GPS, because that would make my life of travel so much easier than their borderline-useless "faux-GPS" that's there now...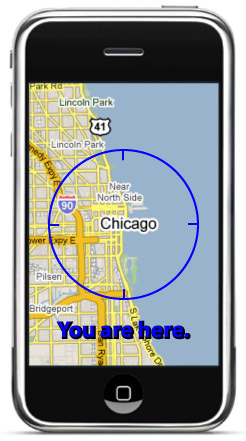 Okay, it's not that bad, but still... I've lost track of the number of times I've screamed "NO F#@%ING SHIT" at iPhone for providing me with a generic non-location that covers 50 city blocks. How is that useful? Sure it's better than nothing, because you can narrow it down from there, but it's a far cry from being able to see exactly where you are on a map at a moment's notice.
Oh well.
Remember the good old days when you had to actually carry a paper map around for stuff like this?
Sigh.
I love to hate you my iPhone.