The flight to Seattle was horrific thanks to some crazy bitch behind me who decided to drench herself in really stanky perfume. By the end of the short 35-minute flight, the plane and everything in it (including me) reeked of the stuff.
By comparison, my connecting flight to Chicago was blissfully uneventful and odor-free... though I couldn't tell because I was still smelling the previous flight. Helpful hint to dumbasses who are going to board a plane: DO NOT WEAR ANY PERFUME, SCENTS, OR (GOD HELP US) AXE BODY SPRAY!!! Once they close the cabin door, your stench is going to be having everybody wanting you dead. Probably because the smell of your rotting carcass would help mask the nasty shit you're wearing.
Arriving at O'Hare was... ahem... interesting, and led to some drama I'd just as soon forget.
Which is easy to do when you are meeting one of the coolest people on earth for dinner, and then heading to see Eddie Izzard perform at The Chicago Theater!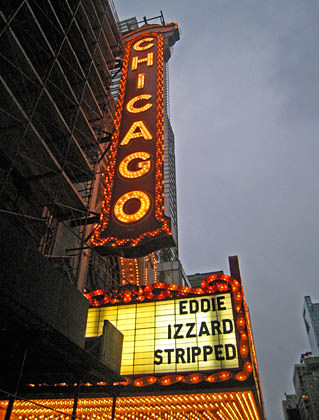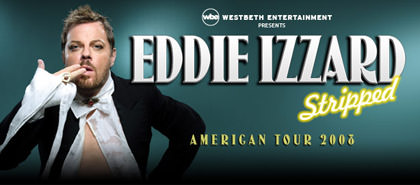 Good times. Good times.
I wish I didn't have to get up at 7:00am tomorrow. This was a very full day.