Ever have one of those days where everything sucks?.
Yeah, that was pretty much my day today... and tomorrow isn't looking like it's going to be much better.
But the big news? I've developed a serious allergy. It first appeared without warning when I woke up in New York with a swollen tongue. Ever since then, I've had random knots of allergic swelling from time to time on my feet, hands, lips, and tongue. It's been driving me a little nuts, but today the pieces finally fell into place after I started keeping a journal of everything I consume.
I think I'm allergic to eating food dyes.
After starting my journal, I've found that any time I've eaten colored foods, I end up with a welt somewhere. The first time it happened in New York City, I remember having drank a bottle of Orange Gatorade earlier in the day. Today I had red Fruit Punch with my Cheesy Fiesta Potatoes at Taco Bell, and now I've got a nice welt on my lip.
So it looks like my diet will be a lot less colorful from now on.
Like I said, suckage.
Thank heavens there's no artificial colors in chocolate pudding.
But there is one good bit of news from the day... I finally finished the box design for my playing cards!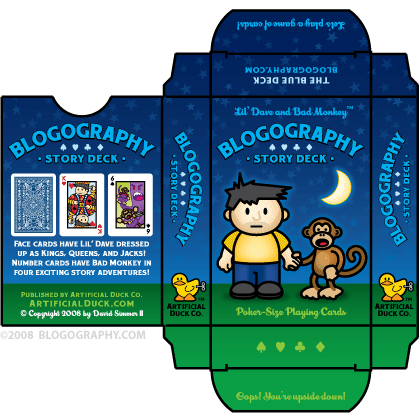 Awwwww, cute! This is probably my favorite DaveToon I've ever drawn, so when it came time to decide what to put on the card box, it was the only thing I really considered. I hope that the card company does a good job of printing it!
For more information on Blogography Playing Cards, you can check them out at the Artificial Duck Co., store.
Next week I'll be wrapping up the pre-orders at the store... so, if you want something there, now is the time to order it! I will try to get a few extras of everything, but can't guarantee how long they'll be available. If you don't have the cash to pre-order right now, just email me and I'll try to reserve your stuff (my email is in the top of my sidebar).
Oog.
One. More. Day.