This morning I was working in bed, trying to get the hang of my new 3-D modeling software, when the electrical power went out. This didn't matter much to me, because I was working on a laptop with a full battery.
But the power never came back on.
I needed to take a shower and get to work, but nothing was happening. Eventually I decided to just bite the bullet and take a shower in the darkness of my windowless bathroom. I mean hey, I pretty much know where all my body parts are, so how difficult could it be? In fact, it might end up being big fun!
Uhhh... yeah.
Showering in the dark is not nearly as entertaining as you would think.
Not only did I lose one of my contact lenses, but I think I ended up washing my hair with facial scrub, and I'm pretty sure there's still shampoo in places where shampoo should not be.
But that wasn't the worst part.
The worst part was that I accidentally went to work with a fauxhawk...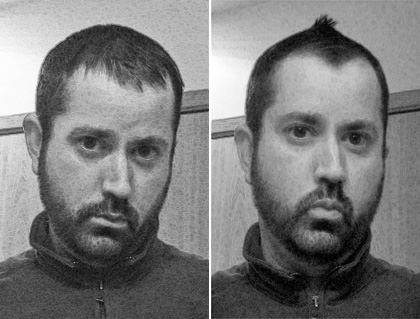 LEFT: My normal mess. RIGHT: accidental fauxhawk in the dark.
When I finally noticed it, I was really embarrassed.
But then I started thinking that this is a look I can totally pull off.
Now I just need to dye it pink...