Has anybody ever had a good experience at the DMV... ever? I only ask because I dread going to the Department of Motor Vehicles more than I dread a kick in the balls. Usually it's because the people working there are such assholes (a job requirement?), but the guy that helped me today was surprisingly nice and helpful. No, the reason my visit to the DMV sucked ass was because it took an hour... AN HOUR... to get my license renewed.
When I got there, I took a number (#69, heh heh!) and noticed that they were calling #62. I also noticed that they don't accept credit cards.
Shit.
Who carries cash anymore? So I ran... RAN... down the street so I could get some money out of the cash machine (which was kind of embarrassing because it was a drive-through ATM and I was walking). Then I ran... RAN... back to the DMV praying that my 10-minute detour didn't make me miss my number being called.
Which was pretty laughable, because when I got back they were on #64.
Shit.
And then I noticed that there were three different number series being called all at the same time... #64... #408... #409... #263... #410... #264... #65... and so on. It took 48 minutes before I even got to the counter. FORTY-EIGHT MINUTES!!! What the hell? THIS AIN'T NO RIDE AT DISNEYLAND M#THAF#@%ER!! If I'm having to pay a ridiculous FIFTY DOLLARS to get my license renewed, you'd better not make me wait on your shit. Try opening more than two service windows at a time, morons.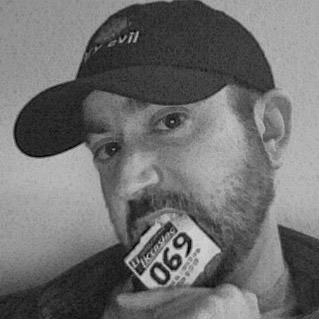 Is my number ticket making you horny, baby?
My trauma at the DMV put me in a bad mood for the rest of the day. After work was done, all I wanted to do was get home and climb into a bottle of vodka.
So there I am driving home when I turn the corner onto my street and BLAM! There's a line of three cars stopped ahead of me. Trying to figure out what's going on, I eventually see the second car (a lady in a minivan) turn into the oncoming lane and go around the first car. After that, the redneck dumbass in the pickup ahead of me honks his horn... waits a second... then punches the gas pedal so he can scream around the first car with his arms flailing.
And that's when I see what's going on.
A young kid from the first car is having engine trouble and is trying to push his car off to the side of the road. Instead of offering to help, dumbasses are honking at him and blowing past.
WTF?
I drive around the poor guy and park in a driveway, then run back to help him push his pile of shit off the road.
He's a little upset, and thanks me profusely as we manage to get his automobile taken care of. I ask him if he needs to borrow my phone to call somebody, but he has his own phone. I ask him if he's okay because he looks a little shook up (with good reason) and he says he's fine and thanks me again. So I say goodbye and continue home. It added maybe five minutes to my trip.
All night now I've been really bothered that people are such assholes that they wouldn't offer to help out this kid. How many people blew past before I got there? It's not like he was a gang-banger, drug addict, or in a dangerous neighborhood... he was a clean-cut kid in jeans and a T-shirt on a residential street! I just don't know. Was it because he looked Hispanic? I sure as hell hope not, because that type of racist crap makes me more pissed-off than a trip to the DMV.
Every once in a while I get a glimpse of where the human race is headed and want to scream.