As I left for work this morning, the adorable old couple that lives next door were screaming at each other. Again. This time over how to dispose of eggshells properly. I can't help but feel that one of these days I'm going to see CSI over there picking up body parts, because these bitches will fight over anything.
I mean, eggshells? Really?
And now, before I forget, here is the latest meme creeping through the blogosphere (thanks Hilly and Jenny!)... a personal slogan generator!
Your Slogan Should Be
Do You Have Dave Inside?
Yeah, baby! Like that's not embarrassing.
Every morning I have my choice of four routes to work. Which route I take depends on a number of factors which are balanced in my head until the least offensive route is determined. For example, if there's a train rolling through town, I'll take the Goodwin Bridge to the highway because its the only route that has an overpass.
Of all the ways I can get to work, the one that bothers me the most is the Pioneer Avenue route. Not only because it's a continuous school zone that enforces a 20mph speed limit, but because there's a sight along the way which bugs the crap out of me. Take a look at this...
Yes, it's a yard light. And there's nothing wrong with a yard light... plenty of people have them... the problem is this...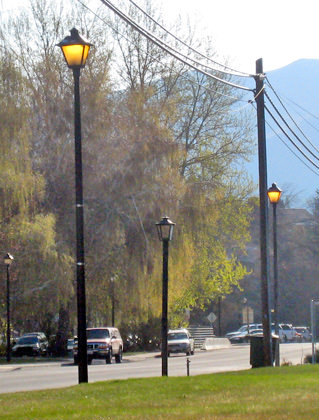 WTF? Why would you put a single yard light directly next to a street light? What purpose does it serve? It's not even located by a walkway going to the house! So why? What's it doing there? And if you simply MUST double-light that section of your yard, why would you make a mini version of the street light next to it? Why? Why? Why? Is it supposed to be some kind of optical illusion or something?
Every time I drive past that stupid light, I start freaking out.
And this morning I have to drive this route while I'm already freaking out because one of my neighbors is probably laying dead in my driveway with eggshells scattered over their corpse.
The stress of living in a small town is really starting to wear on me. I need to move to the relative sanity you find in a big city.