Well then... that was a hoot, wasn't it? Except when I was unloading up my car just now, got biffed in the face with a box of books, ended up with a bloody nose, and am now sitting here with kleenex shoved up my nostril. Good times.
But before we get to who won what, I'd like to take a minute to thank each and every one of you who come to read the useless crap I post at Blogography each day... whether you're brand new or have been visiting for years. I don't know how I've managed to attract such an amazing group of readers, but I appreciate each of you for wasting your valuable time here. Contests and prizes seem a wholly inadequate way of saying "thanks," but stalker laws forbid me from showing my gratitude otherwise.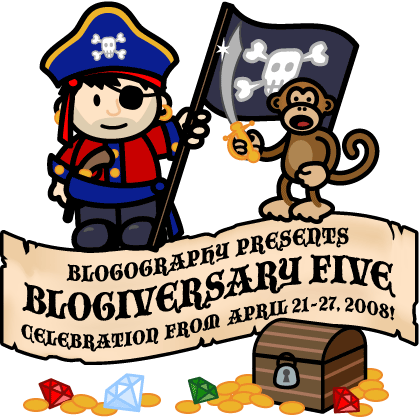 And now... on with the show. I had an uninterested third-party draw names for each contest here except the Grand Prize, which I drew myself...
T-SHIRT CONTEST WINNERS...

Grand Prize: The winner of three Artificial Duck Shirts, six sets of DuckyButtons, 25 Custom DuckyButtons, and free world-wide shipping is...
• Atomic Bombshell

Runner-Up Prize Winners: The twenty winners of an Artificial Duck Shirt plus a set of DuckyButtons (shipping not included) are...
• Hello Ha Ha Narf
• Andy H.
• Jeffrey W.
• By Jane
• Poppy Cede
• Cody F.
• Laci C.
• Anthony M.
• Kyra from Shaping My Way
• It's Me Penelope
• Colin B.
• Wes K.
• Sinjin P.
• Kapgar
• Fran H.
• Kilax
• Run Jen Run
• Captain Underpants
• Adena B.
• Emily S.

The winning T-shirt designs that we'll be printing for the Artificial Duck Store will be announced when the store re-opens on Monday or Tuesday!
HAT CONTEST WINNERS...

Grand Prize: The winner of three Artificial Duck Embroidered Hats, six sets of DuckyButtons, 25 Custom DuckyButtons, and free world-wide shipping is...
• Angela B.

Runner-Up Prize Winners: The four winners of an Artificial Duck Embroidered Hat plus a set of DuckyButtons (shipping not included) are...
• Foo Foo
• Jester
• Jake T.
• Neil T.
PLAYING CARD WINNERS...

Grand Prize: The winner of six decks of Blogography Playing Cards, a Bad Monkey Joker print, six sets of DuckyButtons, and free world-wide shipping is...
• Long Story Longer

Runner-Up Prize Winners: The four winners of two decks of Blogography Playing Cards plus a set of DuckyButtons (shipping not included) are...
• Naomi I.
• Jacki D.
• Amandarin
• Troy D.
DAVE EVENT WINNER...

Grand Prize: The winner of a "Dave Event" near them, four Artificial Duck T-shirts, four decks of Blogography Playing Cards, six sets of DuckyButtons, 25 Custom Ducky Buttons, and a personalized Custom DaveToon Print is...
Announced in the video below! (for my valued readers who are deaf, have hearing difficulties, don't have sound, or can't play video, I've added a transcript of the video in an extended entry)...
And that's all she wrote! Thanks so much for another great year!
Congratulations to all the winners, and I'm sorry if this year wasn't your year. Maybe next time? Everybody who has won something will be receiving an email explaining how to claim their prizes soon.
IMPORTANT: For anybody who didn't win stuff that they really, really wanted, I will be re-opening the Artificial Duck Store with the new merchandise on either Monday or Tuesday. I'm trying to thank everybody for participating by offering drastically reduced pricing on pre-order merchandise, but a few of my costs are still in negotiation. The minute I'm able to secure the best pricing possible, I'll re-open the store and announce it here on Blogography. Sorry for the delay, but I'm working hard to make sure everything is as inexpensive as possible so that the most people possible can afford to buy it.
Thanks again everybody!
And now on to the video transcript...
VIDEO TRANSCRIPT
INTRO MUSIC!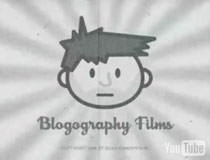 Hey everybody! Just getting ready to draw the name for the grand prize winner of the "Dave Event" contest that's going on here for Blogiversary 5.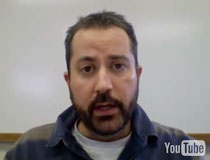 When I first came up with the idea for this contest, it was based on a joke. I had made a joke in a comment on somebody else's blog... I forget who it was... but I made a joke about having a contest where I'd show up at somebody's door like those Publisher's Clearinghouse people with balloons and their prize... whatever prize they won. So as Blogiversary 5 got closer and closer, and I didn't know what I wanted to do for that big contest at the end... it started out as a joke, but it kind of sounded like a good idea for a contest. So I just decided to go for it.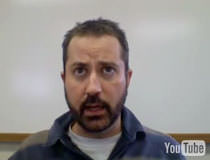 Originally there were going to be two contests. There was going to be one for people living here inside the US, and they would be eligible to have their prize delivered by me (assuming it was a city I could get to easily via an airport or train or something like that). And there was going to be a second prize for people who lived outside the US, and I would mail their winnings to them. But as I got to thinking about it, it just seemed kind of stupid, because the only difference between a domestic flight and an international flight is a few more frequent flier miles... and hotel points are hotel points no matter where you use them... so I decided to roll them all together to make one big "Super Contest" that everybody could enjoy all over the world.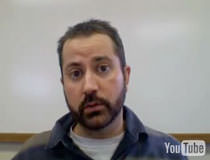 The problem with a contest like this is that you kind of want to reward your readers with it. It'd be a shame if somebody found my site by Google during a Google search and just entered when they don't even know what Blogography is. So the only way I really know how to find out who my readers are is by the comments they leave. Now... it's kind of cruel, because I know there's people out there that read my blog every single day and don't leave comments, and that's fine. I like my readers whether they leave comments or not. But the comments are the only real way I know of finding out who my readers are and making sure that they have a better change of winning than just somebody who shows up. But I didn't want to leave out non-commenters altogether, so I came up with the questions you can answer. And some people did. Most people (as intended, kinda) were frequent commenters who had a lot of comments and didn't have to leave any questions.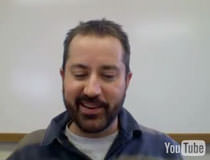 So, what I did was I took every entry, I took the email address (or addresses, since some of you had multiple ones), ran an SQL query on the database that runs my blog, and wrote down on little tickets like this...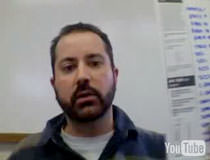 ...how many entries you had. And you could have up to five. No one actually got five... the people who have a lot of comments that were eligible for four comments on their own, chose not to answer the questions. So nobody actually went for the five ticket entry.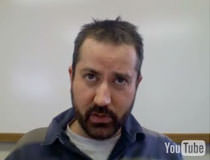 But, in any event, I wrote each of those names on the cards here, and what I do is just rip the cards up. Tear out each of the names on each of the sheets (and there's a lot of them because quite a few people entered and quite a few of those people got multiple names for their tickets. But that just gets folded up...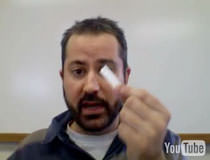 ...and dropped in a bucket here...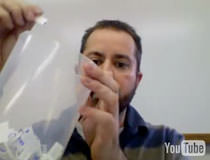 I won't make you sit here and watch me tear up and fold these hundreds of names, but I'll stop the video now and then, when I'm all done, I'll come back and we'll draw a winner!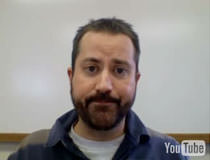 INTERMISSION!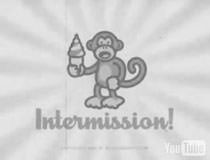 Okay! I'm back and, NOTE TO SELF: Do not use blue permanent marker to write up your ticket thingies...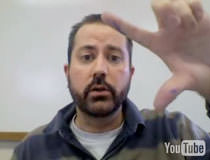 I double-checked to make sure everybody has the right number of entries, so let's mix 'em up...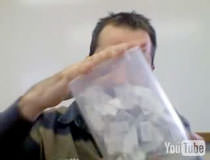 And I won't look, I promise!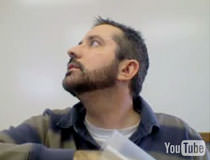 Mix everybody around... oops, I got two! There...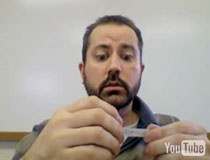 And it looks like I will be going to St. Louis to meet with Ajooja!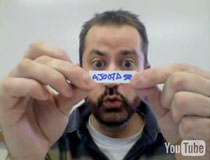 So, there you have it. Congratulations to Ajooja!!! Thanks to everybody who entered and participated in Blogiversary 5 this year. I hope everybody who's in the St. Louis area can join us once I figure out what time we're going to have it... when we're going to have it. And I'll be sure to post that on Blogography so everybody in that area can hopefully join us. So congratulations again, and see everybody next time!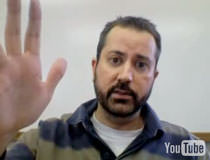 THE END!