THIS CONTEST HAS CLOSED! LOOK FOR THE WINNERS ON APRIL 27th!!
For as long as I can remember, I've been a big-time game fan. Card games, board games, video games... I love them all. I enjoy them so much that I've even created my own games over the years, either by modifying existing games or coming up with something all my own.
When thinking up ideas for Blogiversary 5, it seemed only natural that I take my love of games to the next level and develop one for Blogography. Unfortunately, after six months of effort, my game is still needing a lot of work (maybe it will be ready for Blogiversary 6!). But I still wanted to do something game-related, so I decided to instead create my own deck of Lil' Dave and Bad Monkey playing cards!
But these won't be some cheap-ass cards you won't want to play with... no way! Blogography cards are being printed on casino-quality black-core paper stock with a pro-dealer protective coating. The sample deck I ordered shuffles like a dream and deals like butter! They're perfect for adding a whole new level of coolness to a Texas Hold 'Em tournament, and a great way to spice up your next card game.
Each and every card features an entirely new piece of custom artwork, created specially for this deck. The face cards have Lil' Dave dressed up as kings, queens, and jacks, each rendered in an individual style. As if that weren't enough, careful attention to detail ensures that when you call out "one-eyed jacks and suicide kings are wild!" that the proper jacks have one eye and the correct kings are totally suicidal. This isn't just a cutesy novelty, but a fully-playable deck that's suitable for serious card players...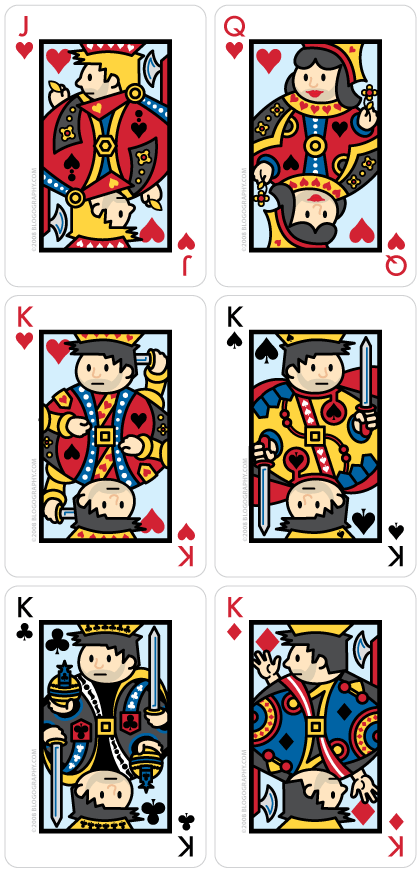 But just because you can play a serious game with the cards doesn't mean you can't have a little fun too! Each number card features Bad Monkey in an illustration from four different genres: Sci-Fi (Spades), Romance (Hearts), Horror (Clubs), and Adventure (Diamonds). When you put the cards in order, they tell a story...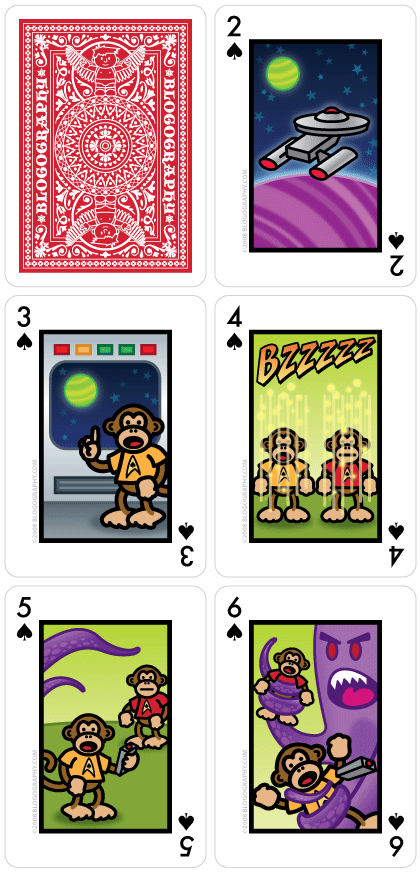 Whoa! Things aren't looking too good for our monkey heroes! I wonder how they get out of this mess? The stunning conclusion can be found on cards 7 through 10!
At this point I'd think it was painfully obvious that you simply must own a couple decks of Blogography Playing Cards, which is why I'm giving some away! Check out today's fabulous prizes...
And now for today's prizes!
GRAND PRIZE DRAWING...



Six decks of Blogography Playing Cards ($42 value). A half-dozen freshly-printed decks are yours, each card featuring an original DaveToon drawing. Host a Texas Hold 'Em Poker Tourney and be the envy of all your friends! Also makes a great gift!



Bad Monkey Joker Print ($15 value). Add class to any room in your home! We've taken the Joker card from the Blogography Playing Cards deck, enlarged it, then reproduced it with pigment inks on archival paper for a nifty print that's suitable for framing!



Six Sets of DuckyButtons ($24 value). Pick any six sets you like, or create your own 5-button sets. DuckyButtons are sure to bring a smile to your face... or to anybody else's you meet when you wear them. And since you're getting 30 buttons, that's a month's worth of sweet wearable art to wear and share!



World-Wide Shipping (up to $35 value). No matter where you live on planet earth, rest assured you won't have to pay a dime to claim your prize because shipping is included.

And that's not all, today you also have four other chances to win...
RUNNER-UP PRIZE DRAWING (FOUR WINNERS!)...

Two decks of Blogography Playing Cards ($14 value). Four lucky people will get two decks of cards... one to play with and another to share with a friend (or keep them both if you're greedy!).

One Set of DuckyButtons ($4 value). Your choice of one set of super-sweet DuckyButtons in whatever designs you like to wear and share!

SHIPPING NOT INCLUDED! YOU WILL HAVE TO PAY EXACT SHIPPING CHARGES TO COLLECT YOUR WINNINGS!
AND NOW FOR THE RULES...
If you've left ten comments at Blogography between April 18th, 2007 and April 19th, 2008, just send an email to the address below and you're entered! If you haven't left ten comments, you'll need to answer five of these six questions in your entry in order to qualify...
NOTE: All answers to today's questions can be found on my 100 QUESTIONS page.
In what city was I first held up at knife-point?
What year did I first listen to my favorite band?
Who makes the best apple pie on earth?
What is my favorite computer model of all time?
In what year did I become a vegetarian?
What's my favorite book?
*If you need to confirm how many comments you've left, you can always use my search page. Just type in the name you comment under and select "Search Comments Only" from the drop-down box. When in doubt, answer the questions... you aren't penalized for doing so. If you can't get a count, think you have 10 comments, and really don't want to answer the questions, send me an email and I'll search for your comment count via your email address.
HOW TO ENTER...

THIS CONTEST HAS CLOSED! LOOK FOR THE WINNERS ON APRIL 27th!!
PLEASE NOTE...
As with all of the new Blogography stuff presented this week, the cards will be printed sometime in May for Delivery in June. This will give me time to accept pre-orders and figure out how many pieces I'll need to have printed. Winners will be announced on Bullet Sunday 79 on April 27th, and the Artificial Duck Store will reopen at that time so everybody who wants to buy stuff can get their orders in.