THIS CONTEST HAS CLOSED! LOOK FOR THE WINNERS ON APRIL 27th!!
Yikes! We're already at the final contest of Blogography's Kick-Ass Blogiversary 5 Celebration!
Of all the reasons I enjoy blogging, getting to meet my readers in person has to be my favorite. That's why I've made an effort to organize blogger meets whenever I can, and created such events as "Davecago," "Davelanta," and "Davelando" (among others), so I can meet as many people as possible...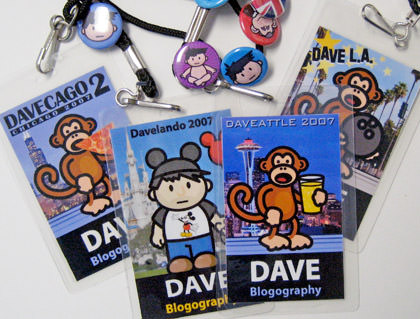 Today you might notice that I've added a new section to my Tab Bar above. It's called "event," and will keep track of all the blogger meets I've devised so I can visit with my readers in Real Life...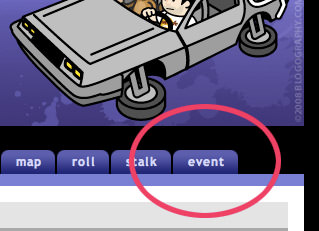 But the page isn't as full as I'd like it to be.
Which is why today's contest is designed to fill it up a bit more...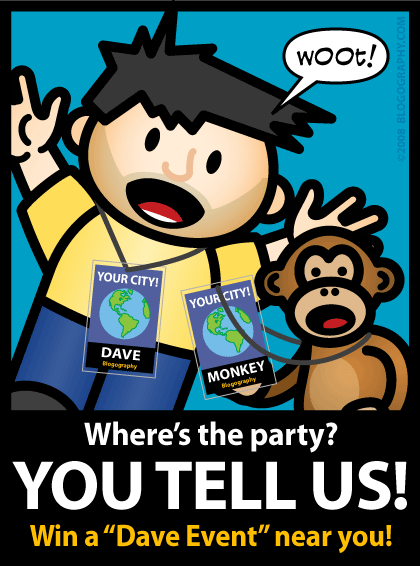 That's right... for this final contest, I'll create a "Dave Event" as close to where the winner lives as possible (almost anywhere... see the rules below). I'll treat you to lunch or dinner, and we can invite any other Blogography readers who might be in the area (they have to pay their own way though!) so we can all hang out and chat.
And as if basking in my glory wasn't reason enough to covet this prize, I'll be showing up with a big box of Blogography goodies...

Four Artificial Duck T-Shirts ($68 value). Any four shirts you like from the Artificial Duck Store... keep them for yourself, or give them out as gifts you'll know they'll treasure forever!



Four decks of Blogography Playing Cards ($28 value). Four freshly-printed decks are yours, each card featuring an original DaveToon drawing. Host a Texas Hold 'Em Poker Tourney and be the envy of all your friends!



Six Sets of DuckyButtons ($24 value). Pick any six sets you like, or create your own 5-button sets. DuckyButtons are sure to bring a smile to your face... or to anybody else's you meet when you wear them. And since you're getting 30 buttons, that's a month's worth of sweet wearable art to wear and share!



Twenty-Five Custom-Made DuckyButtons with Your Design ($25 value). Email us any one design or photo you like, and we'll turn it into 25 beautiful custom buttons of your very own! Use them to promote your blog, impress your friends, or distribute wearable pictures of your cat... so long as it isn't copyrighted, we'll make buttons from whatever you want!



A Custom DaveToon Print Created Just for You (priceless!). That's right... personalized DaveToons are a rare thing since I barely have time enough to draw them for my own blog... but just because I like you, I'll create a new toon just for you, then print it on archival paper with pigment inks so it's suitable for framing.

QUESTIONS AND ANSWERS...
Is this a joke?
Nope!
That's quite an ego you got there... why in the hell would anybody want to meet you?
I dunno, but feel free not to enter the contest.
Really? You'll fly anywhere?
Well, almost anywhere. Here are the conditions...
Your local airport is served by Northwest Airlines.
Your location isn't dangerous for me or going to get me killed.
U.S. citizens are permitted to travel to your location, and there are no visa restrictions.
Contests like this are not prohibited by the laws of your location.
Surely you won't travel to meet me if I live outside the USA!
Actually, I will travel to meet you outside of the USA, so long as the above conditions are met. If you take a look at my travel map, you'll see I'm no stranger to foreign travel. I'm flying on airline miles and lodging with hotel points, so it doesn't make any difference where I go.
How do I know if my local airport is served by Northwest Airlines?
You can check the list maintained at Wikipedia by clicking here.
I live outside the USA and Northwest Airlines doesn't fly to my country... can I still enter? It's possible that one of Northwest's partner airlines can get me there on airline miles, so please send me an email and I'll check.
I live in a small town that doesn't have airport... can I still enter?
Yes, but you would have to make your way to a city served by Northwest Airlines in order to claim your prize from me personally. Sorry about that, but I really can't make time to rent a car, take a train, hop on a bus, or endure whatever other expenses required to show up at your doorstep.
There simply isn't an airport I can get to which you will fly to... can I still enter?
Sure. But I'll have to send you your prize in the mail.
When will you deliver the prize?
I'll have to work that out with the winner, but it will probably be in July, August or September since I should have the new merchandise by then. As anybody who has read my blog for any length of time already knows, my schedule is complex and very tight, but I'm sure I'll find a way to squeeze it in. Of course, if I can't come to an agreement with the winner, I reserve the right to send the prize in the mail as a last resort.
Where will we meet?
Well, if there's a Hard Rock Cafe handy, that's my location of choice! If not, it's no big deal, we'll figure out a public place (probably a restaurant) to meet.
What if Northwest Airlines goes bankrupt or something?
As with all prizes being given away during Blogiversary 5, awarding of prizes is solely at my discretion. If circumstances outside my control conspire to prevent me from delivering the prize then there's nothing I can do about it, and will have to come up with something else or (worst case scenario) eliminate the prize.
What if I don't have a blog... can I still enter?
Of course! A blog is not required to win the prize... this contest is open to all Blogography readers.
What if I've already met you or have already attended a Dave Event?
It doesn't matter if we've met or not... I'd be glad to see you again if you won!
HOW TO ENTER...
Since this is such a monumentally different prize than usual, the rules are a little different. Instead of getting a single entry into the contest, readers can get multiple "tickets" to enter. The more tickets you have in the hat, the better your chances of winning. But how do you get tickets? I'm glad you asked!
THIS CONTEST HAS CLOSED! LOOK FOR THE WINNERS ON APRIL 27th!!
I will search through all my comments between April 18th, 2007 and April 19th, 2008. The number of comments you've left gets you tickets...
15-25 Comments = 1 ticket
25-50 Comments = 2 tickets
51-100 Comments = 3 tickets
100+ Comments = 4 tickets
IMPORTANT: I will be searching for your comments using your EMAIL ADDRESS. So if you've used multiple email addresses to comment in the past year, please let me know so I can be sure to get an accurate count!
But what if you don't have 15 comments? Or what if you have 15 comments, but want better odds of winning? No problem! If you answer 10 of the following 12 questions correctly, you'll get a ticket!
HINT: If you don't know the answers, you'll have to work for it! Try using the search box that can be found in the sidebar of every Blogography page! ALSO... the first ten answers can be found on entries from my Best Of section.
In the DaveToon Heroes Collectible Card Game, what attack does Dave-Devil use to crush his foes?
If you were to purchase a box of D•A•V•E brand condoms, how would they be scented?
What was the cause of the "CLICK! CLICK! CLICK!" noise that caused me to go ballistic while eating breakfast at McDonalds after complaining about the McWeather?
On the "Elizabeth Hurley Scale of Hotness," what comes directly after Angelina Jolie and Halle Berry?
After shooting 232 photos at Bryce Canyon, how many of those was I able to toss out?
What is located at the very top of "Dave Monument"... a fifty-story tall Italian marble statue I want to build to honor myself once I've become Ruler of Earth and annexed Mt. Rainier National Park?
In DaveLand, the "Daviest Place on Earth," how many jets of water pulse through the laser tag arena of the "Splashabout Laser Killers" ride?
When Steve Jobs introduced the iToast Toaster with built-in iPod functionality, how many songs did I report it would hold?
What is it that distracts the worker at the salad processing plant, resulting in the creation of Penis Salad?
After being inspired by Byron Barton's book "Airport," I decided to write my own children's book. What was Bad Monkey smuggling that caused him to get caught by airport security in the story?
What score do you get if you answer all questions correctly on the DaveQ Test?
What was the name of the dog in Blogography's "A VERY LEGO HOLIDAY TALE?"
Good luck!
PLEASE NOTE...
As with all of the new Blogography stuff presented this week, these prizes will be made sometime in May for Delivery in June. This will give me time to accept pre-orders and figure out how many pieces I'll need to have made. Winners will be announced on Bullet Sunday 79 on April 27th, and the Artificial Duck Store will reopen at that time so everybody who wants to buy stuff can get their orders in.