HATS, BITCH!
THIS CONTEST HAS CLOSED! LOOK FOR THE WINNERS ON APRIL 27th!!
A long time ago (9 months) in a galaxy far, far away (Atlanta, Georgia), I met up with fellow blogger Copasetic Beth for THE event in the South last year: Davelanta. We had big fun touring the infamous World of Coke Without Lime, but the best part was when Beth gave me a beautifully embroidered hat she made featuring DaveDevil inviting the world to "Try Evil."
I love that hat.
It has been my faithful companion as I travel the globe, keeping my head warm, my messy hair hidden, and my life complete...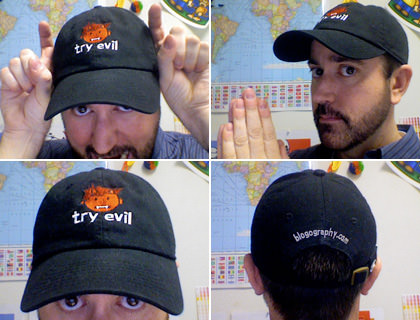 Everybody else seems to like my hat too. This was made perfectly clear to me when some bastard tried to steal it while I was waiting at an airport. Of course, this meant he had to die. But then I remembered that I'm not quite that evil, so I had to let him go. Though I do remember hoping he died of shame after I was finished screaming at him.
And so... when it came time to think up prizes for Blogiversary 5, this choice was obvious. All I had to do was threaten bribe beg ask Beth if she'd be willing to make them for me. Luckily she said yes, and so I came up with three new styles I liked, meaning I'll be offering four styles total in the Artificial Duck Co. Store...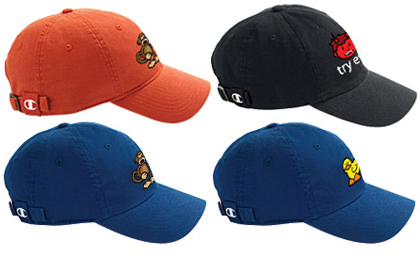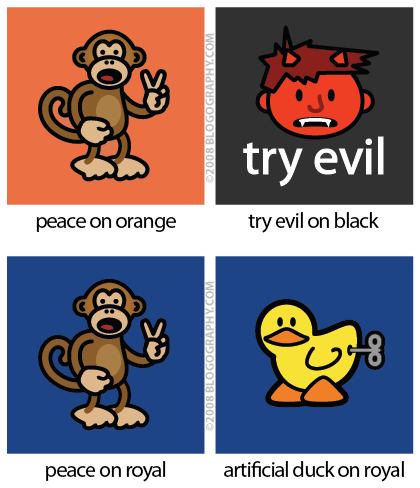 The hat Beth gave me is a super-high-quality Champion® 6-panel brushed cotton twill cap with adjustable strap. It's so comfy to wear that I wouldn't dream of selling anything else. And, needless to say, the embroidery is top-notch... beautifully stitched in painstaking detail. Make no mistake, these are one fashion accessory you can't live without!
And now for today's prizes!
GRAND PRIZE DRAWING...



Three Artificial Duck Embroidered Hats ($57 value). Sweet! Today's winner gets to snag three new hats from the Artificial Duck Store... keep them for yourself, or give them out as gifts that will impress those lucky people you deem worthy of wearing them!



Six Sets of DuckyButtons ($24 value). Pick any six sets you like, or create your own 5-button sets. DuckyButtons are sure to bring a smile to your face... or to anybody else's you meet when you wear them. And since you're getting 30 buttons, that's a month's worth of sweet wearable art to wear and share!



Twenty-Five Custom-Made DuckyButtons with Your Design ($25 value). Email us any one design or photo you like, and we'll turn it into 25 beautiful custom buttons of your very own! Use them to promote your blog, impress your friends, or distribute wearable pictures of your cat... so long as it isn't copyrighted, we'll make buttons from whatever you want!



World-Wide Shipping (up to $35 value). No matter where you live on planet earth, rest assured you won't have to pay a dime to claim your prize because shipping is included.

And that's not all, today you also have four other chances to win...
RUNNER-UP PRIZE DRAWING (FOUR WINNERS!)...

One Artificial Duck Embroidered Hat ($19 value). Four lucky readers will be able to pick whatever hat they like from the Artificial Duck Store, becoming the envy of everybody they meet every time they wear it!

One Set of DuckyButtons ($4 value). Your choice of one set of super-sweet DuckyButtons in whatever designs you like to wear and share!

SHIPPING NOT INCLUDED! YOU WILL HAVE TO PAY EXACT SHIPPING CHARGES TO COLLECT YOUR WINNINGS!
AND NOW FOR THE RULES...
If you've left ten comments* at Blogography between April 30th, 2007 and April 19th, 2008, just send an email to the address in the next section and you're entered! If you haven't left ten comments, you'll need to answer five of the six questions below in your entry in order to qualify...
NOTE: All answers to today's questions can be found on this entry (click to see it).
Which musical artist inspires me to sing in the shower?
Which of my fellow bloggers shames me into eating a healthy banana for breakfast?
Which restaurant was I eating at when a gum-smacking whore stood in line behind me?
Which comic strip character is my favorite of all time?
Which person would I most like to beat severely with a baseball bat?
Which childhood career ambition did I have to put on hold because of hemaphobia?
*If you need to confirm how many comments you've left, you can always use my search page. Just type in the name you comment under and select "Search Comments Only" from the drop-down box. When in doubt, answer the questions... you aren't penalized for doing so. If you can't get a count, think you have 10 comments, and really don't want to answer the questions, send me an email and I'll search for your comment count via your email address.
HOW TO ENTER...

THIS CONTEST HAS CLOSED! LOOK FOR THE WINNERS ON APRIL 27th!!
PLEASE NOTE...
As with all of the new Blogography stuff presented this week, the hats will be made sometime in May for Delivery in June. This will give me time to accept pre-orders and figure out how many pieces I'll need to have embroidered. Winners will be announced on Bullet Sunday 79 on April 27th, and the Artificial Duck Store will reopen at that time so everybody who wants to buy stuff can get their orders in.