Today at lunch I had to run home to grab a portable hard drive I had forgotten and noticed that a bird had crapped on the hood of my car. The violation of my automobile didn't bother me too much because my car is filthy and, well, birds have to poop. What did bother me is that the bird dropped his load off-center. That's just sloppy crapping, and if a bird is going to shit on my car, I'd prefer that they take the time to at least make it look like they meant it...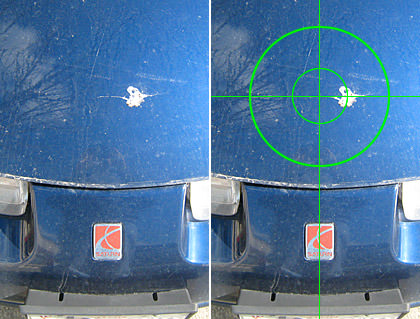 But the biggest offense was yet to come...
While at home it became necessary to open a new package of flushable wipes. I've been using Kleenex Cottonelle Wipes for ages, but recently switched to Charmin Freshmates because they advertised a "DiamondWeave" construction. I didn't know what that meant, but it sure sounded great. I always put wipes in the care packages I send to the troops, and "Diamond Weave" sounds worthy of wiping the assorted body parts of even our toughest servicemen and servicewomen. Besides, as I've written before, I'm a big fan of Charmin toilet paper, and what's good enough to send to our troops is certainly good enough for me...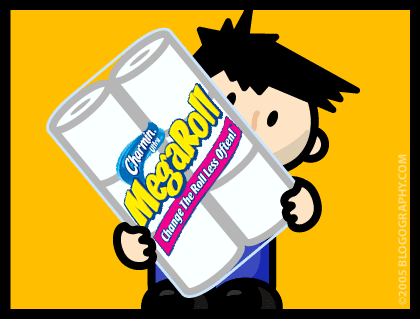 But then I opened the package.
What the f#@%?!? THIS is "DiamondWeave" construction???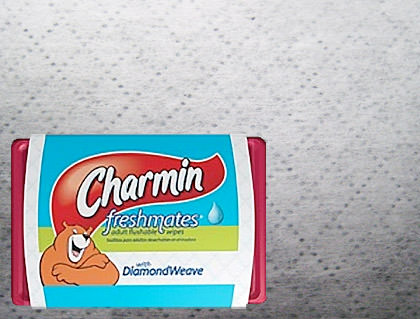 LAME!
All they did was stamp little holes in a diamond-shaped pattern on the wipe! That ain't no weave mutha f#@%er!! How in the hell does this not-so-woven "Diamond Weave" make any difference in the product's wiping ability? I'm no scientist, but I'd think this would actually make a single-ply product weaker in a vigorous wiping session than a non-punctured wipe.
That will teach me to purchase something based on unsubstantiated, nonsensical marketing jargon!
I wish I could be embarrassed at being such a consumer whore.