This morning I overheard two kids debating over something when one of them said "I'm going to punch you in the vagina!"
It was one of those moments where I didn't know whether to laugh or cry. If the kid understood that boys don't have vaginas and was being ironic, it was pretty funny. On the other hand, if he was just repeating something he heard and didn't know that boys are vagina-free, it was pretty sad. I was almost hoping that the debate escalated into a conflict so I could find out exactly where he thought a guy's vagina is.
And speaking of completely misunderstanding vaginas, that stupid bitch "doctor" Laura Schlessinger has now gone on record as saying that, in a relationship, women are nothing more than whores whose only purpose is to service their man...
"When the wife does not focus in on the needs and the feelings, sexually, personally, to make him feel like a man, to make him feel like a success, to make him feel like her hero, he's very susceptible to the charm of some other woman making him feel what he needs." —Laura Schlessinger
How cool is that! It's nice to know that if I get married and decide to stick my penis in another woman, I can just blame my wife! If the bitch had focused completely and totally on ME and MY needs, there wouldn't have been a problem in the first place! Yeah! It's HER fault!
Silly womens!
Uhhhhh... yeah.
I'm not saying that it's never a woman's fault that her man might be cheating on her... but WTF?!? In many ways, I actually find "doctor" Laura's statement to be more offensive towards men than women. We're all egomaniacal assholes who require constant stroking (heh heh) or else we're going to cheat? That's weak. After all the crazy shit this bitch has said, why is she still on the air? Does anybody find her credible or even remotely relevant anymore?
I'll just add "doctor" Laura to my ever-growing list of people who need to be bitch-slapped. Hard.
And, to those who asked... no, this wasn't an accident...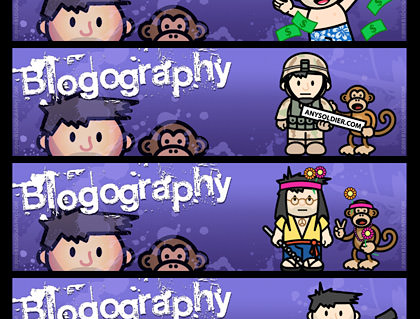 Believe it or not, it IS possible to support the troops, yet be opposed to war and embrace peace.