MY BUNS ARRIVED TODAY!
As I reported two days ago, the evil Tracy Kaply had blogged about top-loader hotdog buns that I remembered fondly and was compelled to order. But these buns were extra-special because they had grillable sides. After work I rushed home so I could fire up the frying pan, microwave the Smart Dogs, and chop the tomatoes & onions so I could add guacamole to serve 'em up Pink's Patt Morrison Baja style...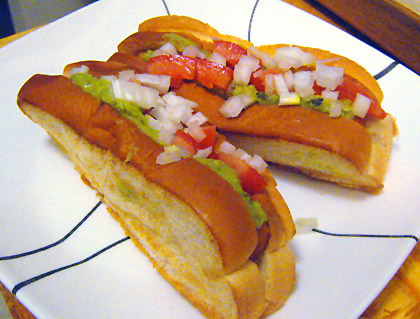 So good.
SO good!
I'd almost say that they taste better than the Pink's original, because the top-loader buns makes allllll the difference. First of all, they don't split apart when you try to eat them. Second of all, those toasty grilled sides add a new level of texture to hotdogs that should have been there all along. If it didn't cost $20 to order these buns, I'd never buy anything else again.
THANKS A LOT TRACY!!!
In other news, I have been working my way through the "new & improved" Star Trek: Remastered episodes and came across "The Corbomite Maneuver" (if you've never seen it, I have to warn you that there are spoilers ahead). In the episode, the Enterprise comes across a glowing cube that they have to blow up. Then a giant ship comes to spank Kirk's ass for busting their shit, but Kirk bluffs them into backing down. After some boring crap I don't remember, the alien ends up being Opie's younger brother... complete with freaky pasted-on eyebrows and an equally freaky-ass adult voice dubbed onto him. He says his name is "Balok" which is one of those vaguely alien names that humans can still pronounce.
In the end, the entire confrontation was all some kind of test, because the alien is lonely and looking for companionship. After getting Kirk drunk on an orgasm-inducing punch called "tranya," Kirk decides that Lt. Bailey (the whiniest moron ever to serve aboard the Enterprise) should stay behind to keep Balok company...
... AND HE IS NEVER SEEN AGAIN!!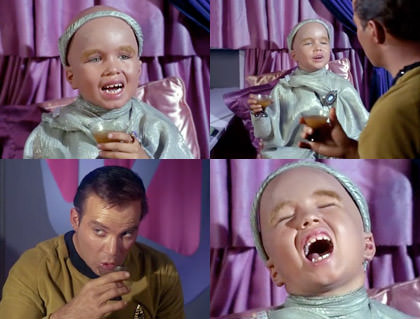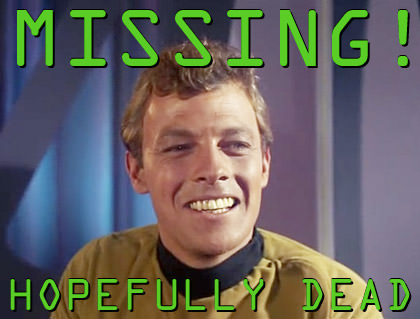 My guess is that Balok got Bailey drunk on tranya one night, then bit his head off and ate him. That's what I would do if stuck with the whiny bitch for more than fifteen minutes.
I just find it odd that there was never any mention of Lt. Bailey again... at least not that I could find. Perhaps Balok brought him back to the Enterprise in one of the Star Trek novels or something, but I don't think so. Of course, there's always the possibility that Balok and Bailey hooked up and are now happily exploring the universe together. Who knows?
Hmmm... I've already had two hotdogs... dare I eat another? I'm not hungry, but they taste sooooo good.
THANKS A LOT TRACY!!!
A video test for Belinda...