It's my last day in Poland!
With only five hours left before I have to leave, there's really not time to do much of anything. A train ride to Kraków would be cool, but out of the question. It makes more sense to wander back through the places from yesterday's tour so I can spend a bit more time looking around when it's not dark out.
Went back to beautiful Old Town Warsaw so I could see everything in daylight...
Shopped for souvenirs and got scolded by a very angry little bird...
Walked to the monument for the heroes of the Warsaw Uprising...
And got a close-up look at the memorial to all the children who fought in the Warsaw Uprising...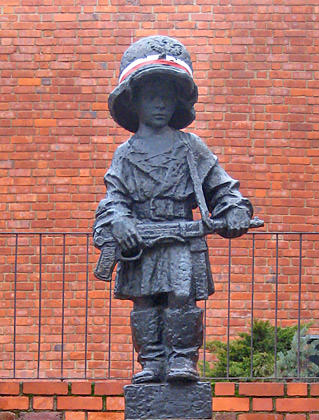 I don't understand Polish, so I can only guess that these signs plastered everywhere are messages of support and encouragement for our beloved president...
Of course, I don't have to read Polish to know that these signs plastered everywhere are messages of support and encouragement for me...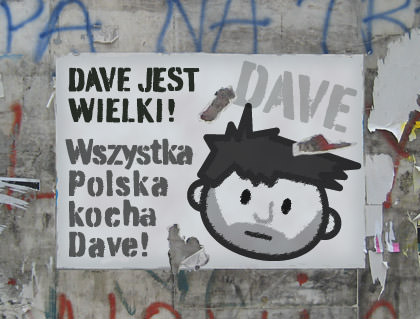 And then, just like that, my time was up. After one last drink at the Hard Rock and saying goodbye to Perry, I caught a taxi to the airport and my adventure in Warsaw was over.
Almost.
When I looked at the reader board to find the terminal/check-in desk for my flight, there wasn't a number... there was an "E". Eventually I figured out from the legend at the bottom that "E" stood for "Etiuda" but that meant nothing to me because I have no idea what an "Etiuda" is. After finding an information desk, I am told the "Etiuda" is "downstairs." When I get there, the sign for "Etidua" points to a restaurant in the corner which leaves me hopelessly confused. I see people walking outside, which is where the sign says the Domestic Terminal is located, so I decided to see if I could find somebody there to help me. I then exit the building and there, about 500 yards past the Domestic Terminal, is Etiuda Terminal.
WTF?
Why couldn't they have the sign for Etiuda Terminal pointing out the fucking door like the Domestic Terminal sign does? Hell, why don't they say that "Etiuda" is, in fact, A SEPARATE TERMINAL? Even if I had perfect Polish language skills, there would be no way for me to figure out what in the hell was going on based on the thoroughly crappy "information" signs they have at the airport. I absolutely hate that. Airports should be dead-simple to navigate... even if you don't know the local language. How hard would it be to have directional arrows painted on the floor next to the reader board so people know where to go? Or how about a simple sign under the board with a map showing the location of all the terminals? How about ANYTHING?
Oh well. After an uneventful flight, I arrive back at Köln-Bonn International... the poster child for excellent airport signage and ease of navigation. As I was making my way to the train station I looked out the window to see an incredible sunset, inadequately captured by this photo...
A few minutes later, and I'm at the cool airport Deutsche Bahn platform for my ride back "home"...
Where, of course, the totally evil Disapproving Man is waiting to pitch me some shit...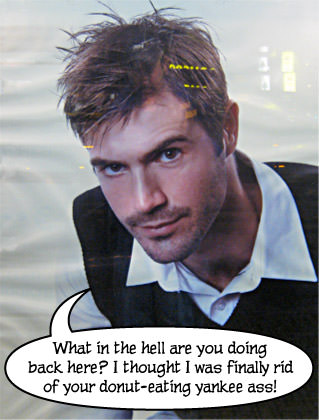 Unfortunately, the bakeries are all closed, so there will be no Spritzringe donut for me tonight.
Waaaah! I wish I could have seen more of Poland.
Maybe next time.