Rumor has it (from ex Disney-CEO Michael Eisner, no less) that the Hollywood writer's strike is all but over, and this Saturday will pretty much seal the deal once the writers themselves sign on.
I sure hope this is true, because I miss my television.
As I sit here typing this, the first episode of Survivor Season 16 has just ended (the only non-Bravo reality show I watch), and I am caught in the 9:00 void until Eli Stone starts at 10:00. And before everybody starts screaming "OH MY GAWD... YOU DON'T WATCH LOST?!?" The answer is no, I do not watch Lost. After a brilliant first season the show degenerated into total shit, where the writer's idea of being clever is to just keep piling on more "mysterious" crap while resolving nothing. Every time somebody tells me "But it's so much better now!" - I tune in and find out it's just more of the same... introduce even more new mysterious characters, pile on even more mysterious mysteries, and leave me even more mysteriously mystified at just how the fuck this show continues to be popular. Maybe once the whole thing is over and people tell me that the writers did, in fact, manage to wrap everything up in a satisfactory manner... I'll revisit the show on DVD or something. In the meanwhile, I'd rather watch reruns of Hannah Montanna.
In other entertainment news...
Today I got a brilliant email because of an entry where I posted this cartoon: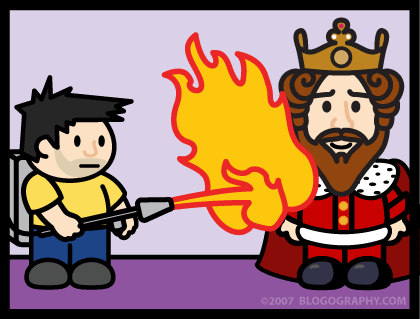 With a twist of my ring, I flame-broil the Burger King!
The email was not from a concerned parent about the excessive violence depicted at my flame-broiling Burger King (which is what usually happens)... it was from a fan of the restaurant chain who didn't like that I would publicize a bad experience I had there. "Millions of people enjoy eating at Burger King and it would be a shame if your complaining were to keep people from trying it for themselves."
So there you have it. Don't take my word for it... go to your local Burger King for breakfast and see for yourself just how bad it sucks!
Though, I have to add a disclaimer here: My problem with BK is only with their shitty breakfasts. I am compelled to give them credit for having the sack to put a veggie burger on their menu, which I actually quite enjoy. Until McDonalds sees fit to roll out their awesome McVeggie Deluxe burger nation-wide, the BK Veggie is about the only burger I can find most anywhere in the US that I can actually eat.
Sigh. I should have wrote more. There's still forty-five minutes until Eli Stone is on...