Call me an insensitive bastard, but I hate getting forwarded "inspirational" and "funny" emails.
I realize the people who do the forwarding think they are being kind by sending me this stuff. They feel that because they find something hilariously funny or warmly comforting that everybody else will too, so they want to share it. Stories of lost puppies finding their way home against all odds. Sweet poems about how much Jesus loves you. Tales of people triumphing over adversity. Humorous accounts of children saying something embarrassing at the wrong time. It's all there for the forwarding, and it drives me nuts.
And the latest abomination to be cluttering my inbox?
LOLcats.
Which I'm guessing stands for "Laugh-Out-Loud Cats."
This phenomena of adding badly spelled and oddly phrased sayings to wacky pictures of cats has taken the internet by storm. Everybody just LOVES LOLcats! One of the most inexplicably popular seems to be this idiotic image...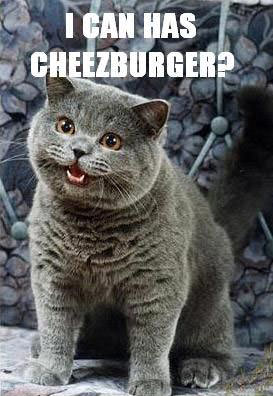 And I just don't get it. I certainly don't find it "lough-out-loud" funny. Or even mildly amusing.
When I'm not being inundated with LOLcats in the blogs I read, they're being forwarded to me in emails several times a week.
I'm hoping that the fad dies out soon, because I'm really close to creating my own LOLcats to send to people...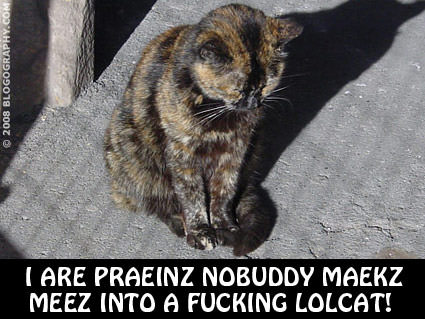 Cat image stolen from Blogography.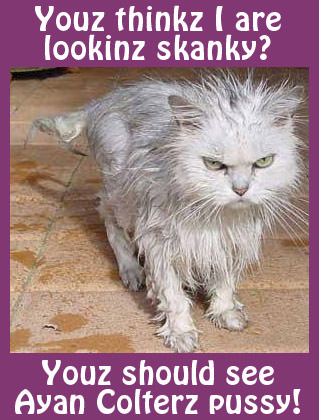 Cat image stolen from Rippin Kitten.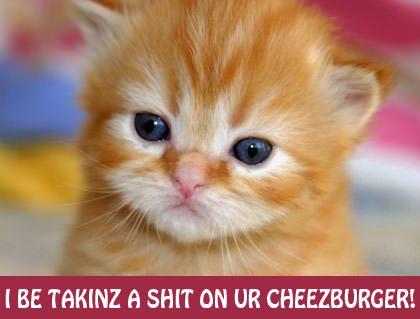 Cat image purchased from iStock Photo.
Which is probably safer than my first idea of making "LOLpussys" out of something altogether different.
= ahem =
Meanwhile, back to my Hannah Montana addiction...
I'm slowly catching up on all the episodes thanks to nightly marathons of the show on Disney2. But I'm starting to get really confused on a few things...
If Hannah Montana is one of the most popular pop stars on the planet, where is her money? I saw an episode where she agonized over having to return a car she was given. Why? She must be worth millions... why can't she just buy one?
I understand Miley's mother (Brooke Shields!) died... but did they ever say how she died? Miley's past is shrouded in mystery and full of holes which really undermines her character development.
Miley Stewart (secretly pop star Hannah Montana) has a father Robby Stewart (secretly former country star Robbie Ray who is public father to Hannah Montana). What I can't figure out is if Robbie Ray is supposed to be Hannah's manager, or if when Robby Stewart puts on that fake manager mustache he is supposed to be yet another secret identity? Because half the time Robby makes no effort to disguise himself as Robbie which should be making Miley's secret identity of Hannah obvious.
Speaking of secret identity busting... Miley doesn't even try to disguise her voice when she's Hannah Montana. Even blindfolded, somebody could easily pick out her distinctive speaking style. I realize that you have to suspend some belief here (Superman + Glasses = Clark Kent) but this is really stretching it.
Hmmm... I really should get back to work. Here it is 10:00, and I've got entirely too much to do before bedtime.