It's Bullet Sunday as I sit here watching the genius that is Invader Zim on DVD. I love GIR.
• Band. A while back Karl found a rather cool meme about making a band and album via random blog searches. I answered it over on his entry, but enough people have asked me about it that I'm reprinting it here. You get your band name from the first article title at a random Wikipedia search. The title of your album is the last four words of the last quote on the random quotations page. Your album cover comes from the third image on a random Flicker page. You then moosh everything together, and here's what I got...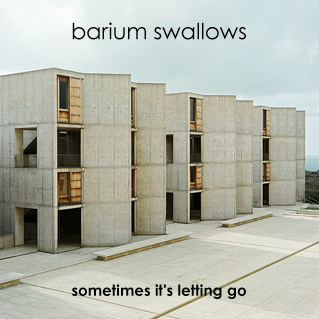 Photo taken from Juan Farrell's Flickr
• Fuckabee. If this ass-wipe wins the presidency, we're all doomed. Of course, we're pretty much doomed right now. I guess I'm just really tired of doom.
• Traction. It started snowing pretty good this morning as I left for work. The snow was all powdery, so when it landed on our icy roads, traction became a problem. Having driven in these kind of conditions for decades, I just reduced my speed by half and anticipated my stops well in advance. Tricky, but not really a big deal. Until I turned the corner and saw one car being pulled out of a ditch, then went another block to see a police office lighting road flares because another car had run off a bridge. WTF? If you are not capable of driving in adverse conditions... STAY THE F#@% HOME!! Or buy my upcoming new book...
• Traveled. By some accounts, I've traveled quite a lot. My travel map shows visits from Asia to Europe and back again. This is especially true for US citizens, where over 80% of us don't have a passport. Which is why it's cool that today I got to meet somebody who's extensive travels make mine look positively tame. It was then that I realize that I've only been south of the equator once, have never visited South America or Australia, and have no "that's when the police confiscated my motorcycle and took my jar of peanut butter" stories. I really do need to get out more, because making the leap from "traveler" to "adventurer" sounds like a lot more fun than eating ice cream and watching cartoons. Well, maybe not a lot more fun... but at least a little more fun.
• Inked. Is there anything worse than printing something out, only to look over and see the error light blinking on your printer? Yes. Yes there is. That would be seeing that you've run out of ink, and have every color cartridge available except the one you just emptied. VENGEANCE WILL BE MINE INFERNAL PRINTING MACHINE!!! Hmmm... maybe I've been watching too much Invader Zim?
And now it's time to see if I can get some sleep so I can get up extra early for work. Heaven only knows how many dumbasses I'll have to navigate around if it snows again.