w00t!
Today my beautiful new "DeLonghi Retro" panini press arrived. It was a little more expensive than my budget, but it had an adjustable temperature control, which I really wanted. It would be a major bummer to shell out for a press that didn't cook hot enough to melt things properly... or was overly hot and burned the bread. Ensuring toasting perfection was worth the extra money...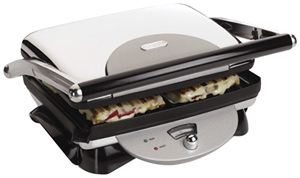 My first sandwich? DEATH BY CHEESE!! It's my take on the "Ultimate Grilled Cheese" sold at Kathy Casey's "Dish D'Lish" restaurant at the SeaTac airport. To make it, you need country white bread (not too fresh... leave it out for a few hours), cheddar cheese, provolone cheese, and spreadable herb cream cheese, assembled as follows...
Once it's all put together, I microwave it for 10 seconds to get the cheese in a more meltable state. After that, you just slap it on a panini press at medium temperature and wait until you hear the cheese running out and sizzling on the grill... wait another 20 seconds or so to make sure everything is thoroughly melted, and you're done! The cheese needs to be the consistency of molten lava. If it's not oozing out of the sandwich and scalding your hands, you've made it all wrong and will have to start over...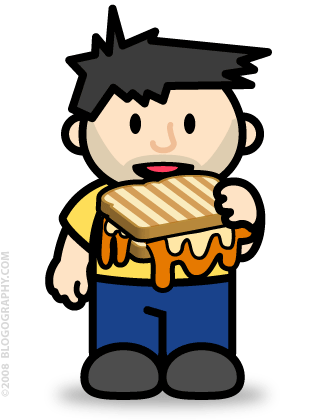 Now that I have my own panini press, I can experiment with ways to add more cheese to the sandwich. It's a difficult proposition, because too much cheese will cause the bread to start sliding around, making it impossible to eat without a spoon. I'm thinking the answer might lay in adding a third slice of bread, but worry it might slip out if not handled properly.
Ah well... I can dream, can't I?