I've been blogging long enough to know that there is no telling what is going to set people off. Sometimes I write entries that I think are going to be controversial and unleash a flood of hate mail, and get nothing. Other times I write what I think are charming and uplifting entries, only to get death threats and people telling me how much I suck. It's a crap-shoot, and I gave up a long time ago trying to figure it out.
Yet reader reaction still crosses my mind.
And, while it doesn't ever really influence what I write, it does make me question myself from time to time.
But it's not the same for comments I leave on other people's blogs.
I'm a cheeky bastard, and that apparently gives me free reign to joke around or say crazy crap and then never even consider that there might be consequences. After all, it's not my blog! I wouldn't intentionally comment with stuff that might get another blogger in trouble or anything... but after I write on their blog, I just don't worry about repercussions.
Now I am slowly starting to regret that, and here's just one example of why...
Over a year ago, Pauly wrote a hysterical entry over at his Words for My Enjoyment blog extolling the virtues of adult diapers, from which I'm republishing a small part here (you really should go read the entire thing, because it's dang funny)...
...Wear them all the time, wherever you want, whenever you go out in public. Don't be afraid of people's opinions, since everyone will be wearing them. Forget about "holding things in" from this day forward and feel free for once in your life. Make the elderly finally feel embraced instead of ridiculed and remove the teasing from the adolescent equation that affects so many children in a negative way. Give every person in this world the opportunity to live, learn, grow and urinate anywhere and anytime without societal pressure to "hold themselves in."

Adult diapers for everyone. It's an idea whose time has come.
Inspired to "let myself go," I went ahead and left the following comment...

I heartily agree… but am having trouble finding adult diapers that offer full protection, yet have a slim profile. I tire of the embarrassing looks and stares I get while wearing my diapers in public!

Now, that was meant to be a joke. Ha ha funny and all that. I don't really wear diapers.
At least not yet.
But that hasn't stopped dozens of people from emailing me with advice about my "diaper problem."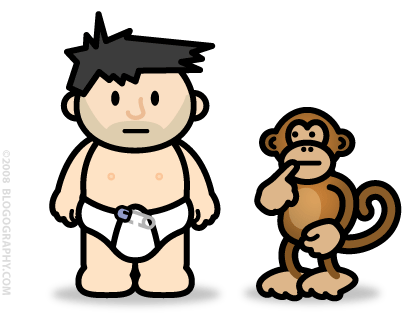 Some people genuinely want to help out and offer diaper tips. Others want to make fun of me. Still others want to ask me questions about my "diaper habit" (or, heaven help them) ask me to send them photos of me wearing diapers (which is the email I got today). It's all pretty messed up, and has exposed me to a secret world of adult-diaper-fetish aficionados that I really didn't need to know about.
All because I didn't consider the consequences as I was hacking out a ten second comment.
Which is a shame, because the convenience of being able to pee in my pants is an idea that's starting to grow on me.