Today at work I was attacked by a bear.
Two bears, actually.
There I was, minding my own business while typing some contact information into my iPhone, when I look up and see bears wandering down the aisle. They are waving to everybody and patting people on the shoulder as they pass. This is typical bear tactics to make people think that they are cute and cuddly when, in fact, they are ferocious killers. Not wanting to get mauled to death in the middle of a candy show, I step way off to the side so they can pass while leaving me unmolested.
This only seemed to encourage the bears (perhaps they smelled my fear?), because they headed my direction, bobbing their giant man-eating heads and waving their giant man-slaying arms. Within seconds, they were upon me. With no gun to shoot them, I panicked and screamed "AAAAAAAAAAAAAAH! BEARS! BEARS!!!"
As dozens of people stopped whatever they were doing to take notice, the bears freeze in their tracks. The one closest to me then backs away a bit, looking confused. This gives me the opportunity I need to escape. Quickly dodging to the other side of the aisle, I run around the corner and am safe. Victory is mine!
Later in the day, I stalked the bears so I could get a photo. Just look at the ruthless bastards...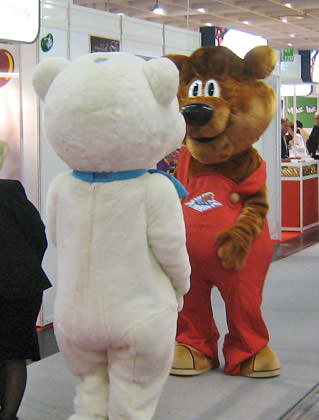 As I'm leaving work, Bad Robert calls me...
ME: Hey Robert.

ROBERT: Dude! You're in Germany! How is it?

ME: Not too bad. I got attacked by bears though.

ROBERT: Sweet! Hey, could you grab me some of that Pop-Rocks Chocolate?

ME: (remembering that I had emailed him about this new chocolate candy that melts in your mouth, then explodes because it has Pop Rocks in it) Ummm, sure. I'll see what I can do.

ROBERT: YEEEESSSSSSSS!!! Hey, call me when you get back and I'll come up.

ME: Sure. See you then.

ROBERT: Well, okay... have fun drinking beer in your lederhosen!

It's then that I realize Robert undoubtedly thinks that everybody in Germany dresses up like characters from our nearby bavarian-themed tourist town of Leavenworth, Washington during Oktoberfest. This is of course, absurd, but I don't tell him that so he can keep the fantasy alive...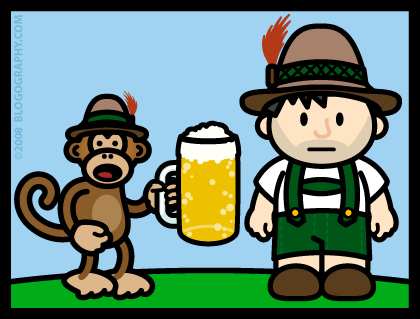 On my way to a delicious dinner of Twisted Mac & Cheese and Smashed Potatoes at the Hard Rock Cafe, I stop off at the LEGO Store so I can see if there's anything special going on since today is the LEGO 50th anniversary. I thought they might be handing out gold bricks or would have commemorative keychains you could buy or something. Unfortunately, not only was there nothing going on, but the employees didn't even seem to be aware of it. I found this kind of sad, because LEGO is my all-time favorite toy. Heck, even Google is getting in on the festivities, but LEGO themselves couldn't bother to do ANYTHING?...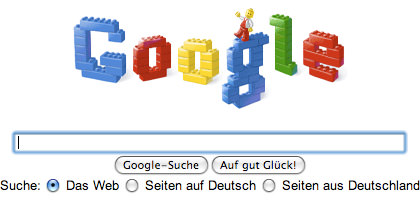 Oh well. Happy 50th birthday LEGO! Hard to believe all your deserved success was built starting with a single brick...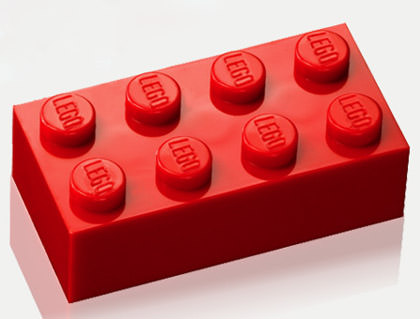 And now I really should get back to work seeing as how it's already 9:00pm and all.
Just as soon as I set down my beer and change out of my lederhosen...