Today was my last day on the job in Köln, and I got off work an hour early. As I left, all kinds of exciting ideas popped into my head as to how I might spend the afternoon. This is a great city with plenty to do, and I could use a break from my daily routine.
But by the time I got back to my hotel, my attitude had changed entirely. I just wanted to order room service then climb in bed and read a book. The last thing I felt like doing is going to a museum or hunting down something to do. I finally made the decision to at least go out for dinner, which means I ultimately ended up following my daily routine after all. Sad.
One thing I do several times a day in my routine is walk past a poster hanging in a hair salon window that has a guy on it promoting professionally disheveled hair. This is bothersome because he seems to be looking all condescending and judgmental at me in a disapproving way. Every time I pass it, I feel as though he would be making some kind of smart-assed comment to me if he could talk...
I also feel that Meister Bock at the train station's sausage stand is making smart-assed comments at me, but it always involves how happy he is that his massive wiener is so much bigger than mine...
When I come back from the job, there's Disapproving Man waiting for me again...
And, of course, he's there when I go out for dinner...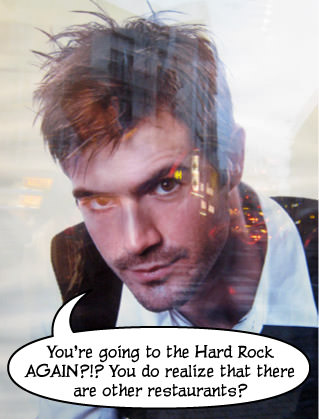 While walking back from the Hard Rock Cafe Köln, I pass four Merzenich Bakeries (they're as prolific as Starbucks in Seattle!). This makes me happy, because they make the world's most perfect donut... DAS SPRITZRINGE!! It's actually more like a pastry than a donut because the center is kind of undercooked and doughy. I think that's what makes them taste so darn fine...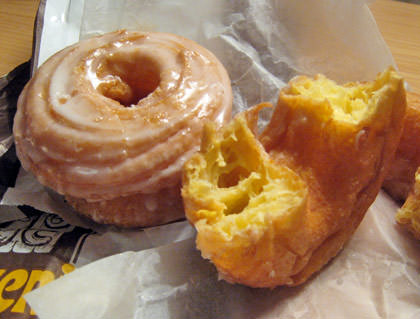 Because the Merzenich shops close promptly at 6:00pm, it's usually slim pickings as they try to get rid of their remaining inventory. Since I must have four Spritzringes (two for after-dinner dessert and two I save for breakfast in the morning), I usually end up having to drift from shop to shop until I've found enough. Today I found none at the first shop, one at the second shop, none at the third shop, and one at the fourth shop. This means I only ended up with TWO Spritzringes for tonight, and this sucks major ass. I only get one for dessert and one for breakfast, which is hardly satisfying. Except perhaps to the bastard on that poster...
Since it's 10:30pm now, I should probably think about getting some sleep. Except my flight doesn't leave until the afternoon, so maybe I should go to the corner pub and get drunk instead?
Though I can't bear the thought of having to face Disapproving Poster Man while I'm wasted, so I guess I'll just climb in bed and play Kitty Spangles Solitaire until I pass out...