I'm so very tired.
Which is why there will be no alternative content for those who hate Apple Macintosh... or just don't care about Apple Macintosh... or are tired of reading about Apple Macintosh. Today at Blogography is all about Apple Macintosh and Steve Job's keynote speech at Macworld. Sorry about that.
Unless you love Apple Macintosh like I do, in which case today is your lucky day! Here's my thoughts on some of the announcements from this morning...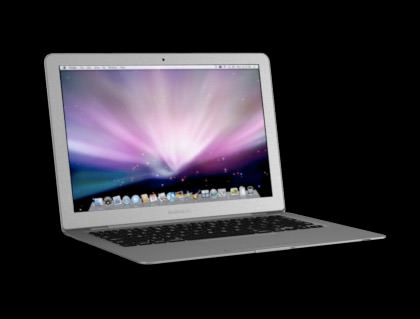 MacBook Air
So sexy it hurts to look at, the slender form-factor, astounding 5-hour battery life, and miniscule weight of the MacBook Air are almost too good to be true for the frequent traveler. The minute Steve Jobs took it out of that envelope, I wanted it... and wanted it bad. But then, just as I was about to click the "PRE-ORDER NOW" button, a few things started bouncing around my in my head...
Battery. Not user replaceable so, if you have a very long day of travel ahead of you, there's no way to carry along a spare. On top of that, batteries start going bad after a few months and, once a year or two has passed, the charge it can hold starts a steady decline. I don't like the idea of having to send my laptop back to Apple just to replace the battery.
Firewire. The lack of a Firewire port means no movie editing, and I'm shocked that Apple would omit it. This is almost a deal-breaker for me.
Glossy. I don't like glossy screens on my computers... not only does the glare make it difficult to use under anything less than optimized lighting conditions, but the hyper-bright colors are not conducive to color-accurate editing for designers.
Drive. The 80 GB hard drive is a little small compared to the 150 GB I'm used to, but it's the even smaller 64 GB SOLID STATE drive that I covet beyond all reason. Despite adding a cool $1000 to the cost of the MacBook Air, I'm guessing the speed and power savings it offers would be worth the sacrifice (I'll just take a tiny USB hard drive with me when I need the extra storage space for work files). This is both a negative and a positive.
So, despite my lust for this terrific new laptop, I'm not ordering one until I've seen it in person. Of course, being the Certified Mac Whore that I am, it's inevitable that the MacBook Air will eventually be mine. It's just too perfect for travel and, given the amount of traveling I do, it's easy to justify the purchase.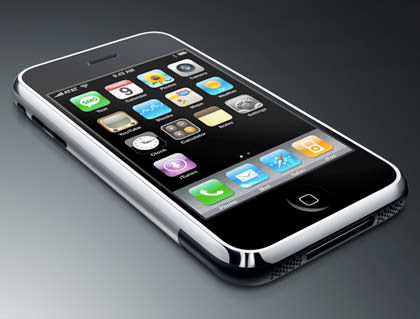 iPhone 3 Update...
My biggest complaint about iPhone since day one was the lack of a GPS unit to pinpoint my position on Google Maps. I thought this was a truly stupid oversight, and I hated having to figure out where I'm at so I can type it in for directions and such. Well, thanks to Google Maps's new ability to use cellular towers to triangulate position, iPhone now has a kind of "pseudo-GPS" which is accurate enough for me. The other new features are cool, but now I'm most excited about the 3rd-party developer kit Apple is releasing in February. Given the massive success of the iPhone, I'm betting that we're going to see some great new iPhone apps in the coming months. I can't wait.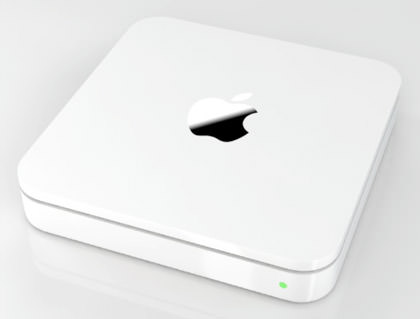 Time Capsule...
This brilliant device allows wireless backup via Apple's ass-saving "Time Machine" technology, PLUS has a wireless base station built-in, PLUS allows a network volume share... all with an industrial server-level hard drive. The best feature though? The price. Just $499 for a Time Capsule unit with a full terabyte of storage space. I ordered one immediately.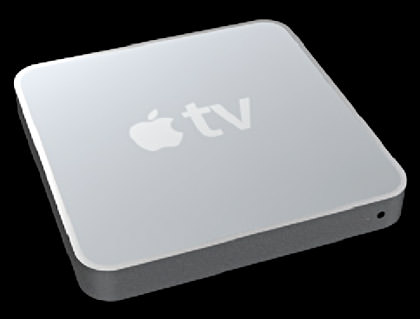 AppleTV, Take 2...
I held off buying the original AppleTV when it first came out... it sounded great, but was lacking in several areas. Well, many of those holes have been filled with the new version two, and now I find myself wanting one. The deciding factor will be how many movies Apple puts up for rental. Something tells me that the studios are just going to LOVE that most of the rental fee paid will be going directly to them instead of some third party (like Blockbuster or NetFlix). If this is the case, and movie studios start putting their entire catalog up for rental (not just new releases and popular favorites) then I'll be giving AppleTV a serious look. This could be the ultimate "movies on demand" appliance, and I am in love with the idea of having immediate access to a massive repository of movies.
Or whatever.
Theoretically, this was a very expensive Macworld for me. It is likely that I'll end up buying every new product that was released, and that is not okay. I wish that Apple would release some total crap every once in a while so I could hang on to my hard-earned money.