Despite the fact that I had to go to the dentist for my 6-month check-up first thing this morning, I woke up in kind of a good mood. Sure I had a ton of work to do but, thanks to a handful of sleeping pills, I got a good night's sleep and was feeling okay. That doesn't happen too often now-a-days, so I put a smile on my face and decided to just roll with it.
Then I stepped outside.
It was raining. Hard. I was all ready to wipe that smile off my face and let my mood go sour... but then I looked up...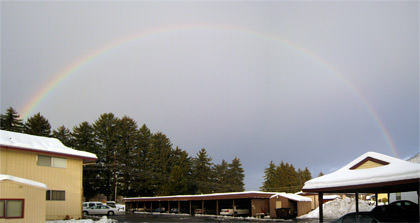 This photo hardly does it justice, but there was a massive rainbow arching across the entire sky. And, even though you can't tell from the picture, they sky was actually a nice shade of blue. Like this...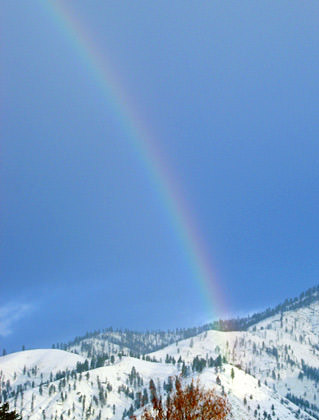 In person, the rainbow was spectacular. Bright, vivid, colors that shot across the sky like a Hollywood movie special effect! My happiness was reinstated. I didn't care that it was raining.
But then I got in my automobile. And it wouldn't start. Probably because of my drive over the pass on Sunday, which was undoubtedly a massive strain on the 7-year-old battery that came with the car. Crap.
So now I have to borrow a car to get to my dentist appointment AND buy a new battery. Life is really sucking today. Though my teeth cleaning went pretty well, and there wasn't much need for the dental instruments of torture...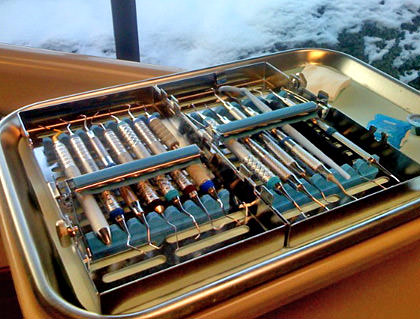 Surprisingly, the rainbow had followed me into Wenatchee, and was shining brighter than ever as I went to buy a new car battery...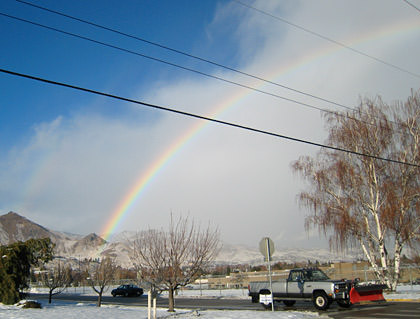 And then it was back to work for six hours until I could find a ride home and install my battery.
Except the engineer who designed my Saturn SC-2 is a sadistic fucker, and replacing my battery was not as easy as it has been IN EVERY OTHER CAR I'VE EVER SEEN. The damn thing is bolted in with a stupid-ass metal shield of some kind, and none of my tools are long enough to unscrew the shit. So I work on the bracket without success, until it gets too dark and I can't see what I'm doing.
Fucking piece of crap Saturn.
Seriously. I bought the damn thing because I wanted to support American workers by purchasing an American car. But it has been a steaming pile of shit from the very beginning. And now, on top of having error lights that won't go out no matter how much I pay the Saturn repair shop, it has a battery that you can't remove with standard tools.
In the morning I'll give it another try. If I can't get it to work, I'll just rent a fucking blow-torch and cut the shit off. Or light the entire car on fire and laugh maniacally as it explodes.
Ooh! I guess I ended up in a bad mood after all.
Stupid rainbow.