Well smack my ass and call me Sally.
This morning I woke up at first-light so I could try once again to install a new battery in my car. As I mentioned yesterday, Saturn designed a bracket to hold the battery in place (good) but it has the binding bolts in really stupid places (bad). In order to remove the bracket, you need something like an air-powered flat ratchet for one of the bolts... and a long extension ratchet head for the other one. I, of course, own neither of those things. There's really no need to own those things unless you are an auto mechanic.
So after an hour of getting nowhere, I finally decide to put on a dress, then grab a matching purse and shoes so I can go pay a mechanic to install the battery...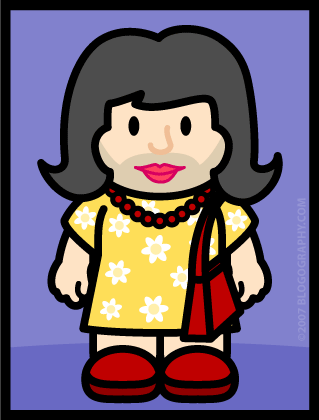 So thanks a fucking load Saturn. Nothing can emasculate a man faster than having to pay another guy to put a battery in his car. Seriously, how fucking difficult would it be to design the shit so that anybody with a pair of pliers and a screwdriver can take care of it? Is that really too much to ask? I mean, I own a good set of manly tools... I even have a Dremel for criminey's sake... shouldn't that be enough to do something as simple as replacing the battery in your car? Yes. Yes it should. Because, when you think about it, the time that most people have to replace their battery is probably a time when they least expect it, and they may not have any tools available. Why not a simple locking pressure clamp with no tools required? Why force guys to have to wear dresses with matching shoes and handbags as they pay a mechanic to deal with this simple shit?
There is no good reason I can think of except that you hire asshole engineers who get sadistic pleasure out of torturing your customers.
I seriously need to go drink a six-pack of beer while watching football and farting as I scratch my balls so I can get some of my manhood back.
Though I should probably change out of this dress first.