Why isn't there a federal law which requires there to be a McDonalds located past every airport security checkpoint? That way, I wouldn't have to go to the Milwaukee airport 2-1/2 hours early so I have time to eat breakfast in the pre-screening lobby and still have time left to stand in line and get probed by the TSA (Milwaukee's express lane for first-class ticket-holders isn't a separate lane... all it does it cut you in front of some poor bastard that's been standing in line for an hour, and that's not really fair).
After having a thoroughly horrible breakfast of onion-flavored eggs on an onion-flavored croissant with onion-flavored cheese and a side of onion-flavored potatoes, I head over to the place that makes Milwaukee's airport one of my all-time favorites (even though there's no McDonalds on the E-Concourse)... RENAISSANCE BOOKS!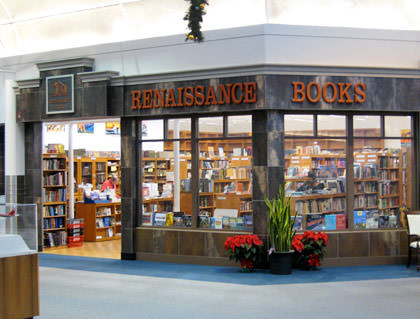 I love Renaissance. They have a remarkable collection of older used paperbacks & hardbacks at reasonable prices, and I've purchased at least a hundred books there over the past fifteen years I've been passing through MKE. Most of those are ancient 35&cent and 50¢ copies of Edgar Rice Burroughs novels for my collection. Today I filled in a few holes of my Tarzan series, which was pretty sweet.
And now I'm off to Walt Disney World.