"Would you like to join our parade?" the cast member says, shaking her little tambourine and smiling.
"Your parade? Join your parade in the middle of my dinner? I'd rather light my pubes on fire and jump into a vat of gasoline. I'd prefer to be struck by lightning. I would rather be attacked by wild beavers with a hunger for human flesh. I'd dance naked while holding a lightning rod in each hand during a thunderstorm first. I'd rather eat goat scrotum smeared with bat guano and dipped in cockroach larvae. There is nothing I'd like less than to join your parade, so no... not really." --- Is what I WANTED to say. What I ACTUALLY said was "no thanks."
Yes, heaven help me, I'm back at Walt Disney World...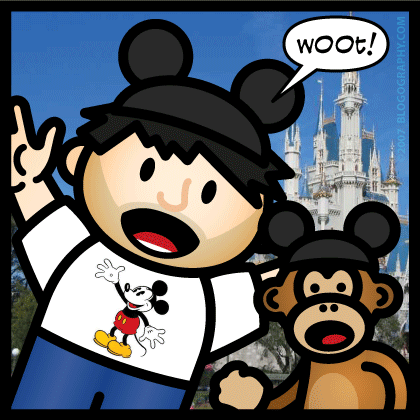 I used to visit Disney World at least once a year during my trips to Orlando, but gradually lost interest. Five years ago I stopped altogether. The closest I've gotten was a quick stop at Universal Studios 3-1/2 years ago. It just stopped being fun. But a lot has been changed and added over the past half-decade, and so here I am again.
I usually stay at the Wilderness Lodge (my favorite) or The Contemporary Resort (so convenient)... but, no matter where I stay, I always end up making my way to Port Orleans for breakfast a couple times because they have the best freshly-made beignets (French donuts) outside of New Orleans. This time I decided to cut out all the pretense and just stay at the Port Orleans Resort so I could have beignets for breakfast every morning, which is what I've really been wanting all along. It's not as cool as the other Disney properties I've been to, but still nicely appointed and clean.
Thanks to Disney's "Magical Express" shuttle service, I skipped baggage claim at Orlando International Airport (Disney waits for your bags and puts them in your room for you) and headed straight for check-in. Since it was 6:30pm, everything was about ready to close except MGM Disney Studios, so that's where I went. It's my least favorite of the four parks, so it would be nice to get it out of the way...
ATTRACTIONS OF THE DAY...

• Twilight Zone Tower of Terror (x2). I was confused a few months ago when I rode the Disney California Adventure version of this ride, because it wasn't the same as the Florida version. Here, your elevator car actually leaves the elevator shaft for a "trip through the fifth dimension" before rolling into the drop shaft (unlike the California version, which never leaves the shaft). It's a better experience, but the part that everybody comes for (the drops) is the same. Wikipedia Link.

• Aerosmith Rock 'n' Roller Coaster. A fast-launch roller-coaster "dark" ride in the vein of Space Mountain that's actually pretty cool. Of course, I'd ride it just to see the ever-amazing Ileana Douglas (who plays the band's manager) because she's one of my favorite actresses. Wikipedia Link.

• Star Tours. This ride is badly dated and desperately needs to be upgraded (it's not even as cool as Back To The Future: The Ride that was just closed at Universal Studios!), but I always ride it just in case it's the last time I'll be able to do so. Rumor has it that Lucas is working on a revamp which will center around the prequels crap (a pod-race, or whatever) which freaks me out because he'll probably shit all over the ride with Jar Jar Binks, unnecessary banthas, and other stupid dumbassery. Wikipedia Link.
And that was that. Four rides in under two hours is pretty good by Disney standards. All that was left was dinner, which consisted of Disney's always-delicious cheese pizza and apple slices with caramel for dessert.
I have no idea what I'm doing tomorrow. But I'm sure it will be "magical" because I've heard that word at least a hundred times since I've arrived here.