Last night after dinner as Dale and I were leaving Epcot's France Pavillion, I stopped at the Italy Pavillion so I could make lunch reservations for today. My favorite place to eat in Rome is "Alfredo alla Scrofa," the restaurant where Fettucini Alfredo was created. The taste is vastly superior to the total shit that Americans call "Fettucini Alfredo" and the only place you can get it outside of Italy is at "L'Originale Alfredo di Roma Ristorante" at Epcot. So today I show up and notice that the restaurant is no longer "Alfredo" but something else entirely. In the dark last night while making reservations, I didn't notice. WHAT THE BLOODY HELL HAPPENED?!?? Disney managing to score Alfredo was a major coup, and letting them leave Epcot is a huge mistake. The new restaurant doesn't even have Fettucini Alfredo on the menu! I felt like crying. Epcot is dead to me.
After having a fairly decent non-Alfredo lunch anyway, I was wandering through the Germany Pavilion when I heard IT.
Some woman was talking to her husband and said IT.
Yes, IT...
"The great thing about Epcot is that you can visit Germany and France and whatever without having to actually go there.
I could not help myself. I started laughing hysterically. I was like one of those Tickle-Me-Elmo dolls. I was Tickle-Me-Dave...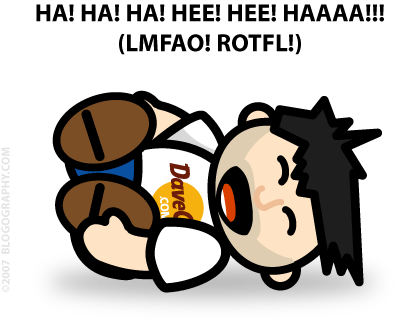 I found it absolutely priceless that this woman could think that the entire country of Germany could possibly be experienced by walking around an Epcot pavilion. I stopped and looked around "Germany" and just died...
Then I started thinking about the many times I've visited Germany and some of the incredible things I've seen there... and I died a little more. Died laughing.
And how about the Parisian village in France...
Yeah, that's totally France right there. No need to cross the Atlantic, because that's so totally it!
Hey Karla, forget about me ever coming to visit you in Oslo... I've now been to Norway, so there's really no point in it. See??? It's Norway...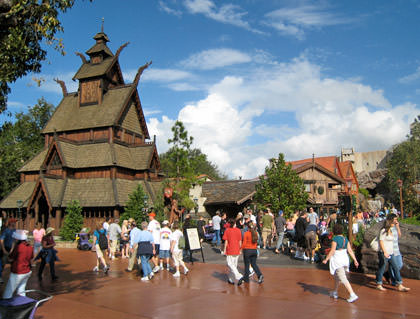 I mean, what's the point in leaving the US anymore? Just go to Epcot, and you've experienced all the world culture you'll ever need! Lets take the "United Kingdom" for example. It's like an English village of some kind, complete with a corner pub...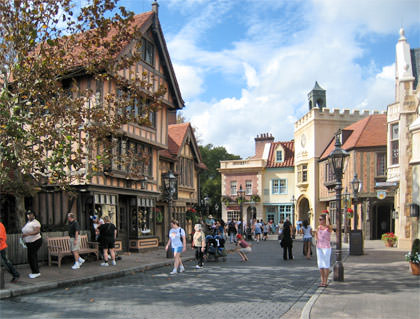 And don't forget the fish & chips...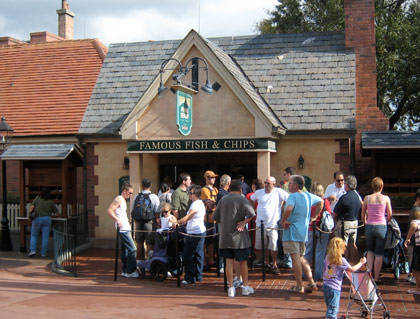 And the United Kingdom wouldn't be complete without red phone and post boxes...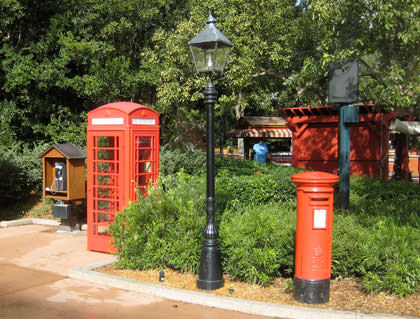 Yep, that's the UK alright! Just like being there! And don't forget Canada...
All we need is a lumberjack, a Royal Canadian Mounty, and a moose with a hockey stick, and it's perfect!
But then I started looking around all the pavilions, and kind of had a change of heart. That woman may have been totally insane to think that Epcot could replace an actual visit to any of these countries... but that's not the point. The point is to get a little hint of what it must be like at these places. And just maybe what you see and experience at Epcot will be enough to make you want to visit the real country one day...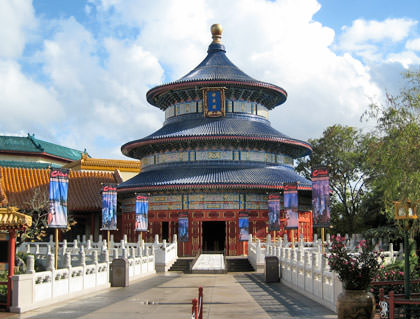 I've been very fortunate to have seen most all of these places for real. But that's an opportunity that many people don't have (and may never have now that Bush has put the value of the US dollar in the toilet). I've been to St. Mark's Square in Venice and seen the Campanile bell tower and Dodges Palace. Does the Epcot mini-versions somehow invalidate this? No. It's not even remotely the same thing. But it's a clever tribute, and that's all it's meant to be...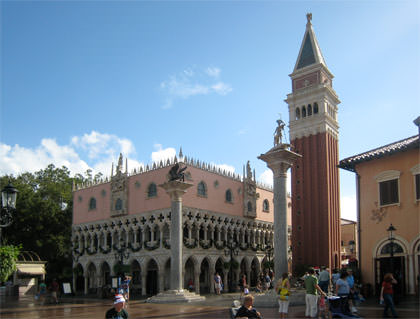 And then, just as I'm ready to praise Disney for making a little taste of foreign lands available to those who might otherwise never have a chance to experience them, I look across the lagoon towards that small patch of "Paris" and suddenly the illusion is shattered. Who is the dumb fuck Disney engineer who decided to build a massive hotel behind the Paris skyline? There's the Eiffel Tower alright, and it's being dominated by two giant swans, just like the real thing!!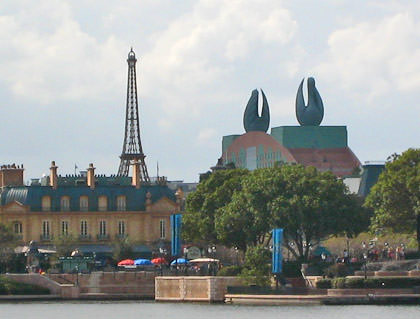 Suddenly, the once great Eiffel Tower looks like the tiny little prop it is. Way to go Disney... you've painstakingly worked to build the illusion of one of the world's greatest cities, and then let greed go and fuck it up for everybody. Walt Disney World is MASSIVELY HUGE!! Couldn't you have found another place to stick your "Dolphin and Swan" hotel monstrosity? Whoever was in charge of picking that hotel location should be shot. What an asshole. Walt Disney is spinning in his grave with shame.
ATTRACTIONS OF THE DAY...

• Harmony Barber Shop. I actually got my hair cut at Magic Kingdom's resident barber shop yesterday, but forgot to mention it. This place is famous for giving kids their "first haircut" and any kid doing so gets a special "Mickey Mouse Ears" embroidered hat and a certificate to prove it. When I was there, a pair of twins were getting their first haircut, and it was pretty hilarious to watch. This place is massively busy all day long, so it helps to arrive early. I got lucky, because a parade distracted people so I could get in within 15 minutes.

• Test Track. This attraction was supposed to have a grand opening on one of my earlier Disney trips, but got delayed. When I finally did get to ride it my next trip, they had technical difficulties and had to stop it in the middle. I finally got to ride it all the way through on a following visit, but wasn't really impressed. The entire thing is just a glorified (and somewhat boring) General Motors car commercial. Sure it's a ride that goes 65 mph fast, but I've gone faster in my own car, so whoopty-do. But it's one of Epcot's biggest attractions, so I went ahead and rode it as I was leaving the park. Basically, you ride around in a 6-seater "car" that gets tested over bumps, heat, cold, and the like. Yawn. Wikipedia Link.
For the record, my biggest attraction of the day was buying a load of overpriced Japanese candy in the Japan pavilion...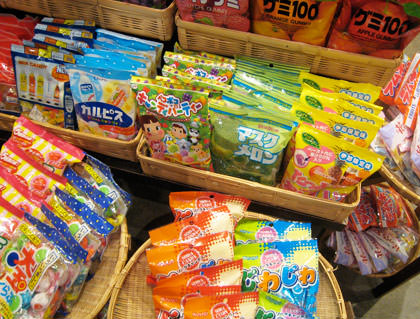 And thus ends my third day in Walt Disney World.
Almost...