This morning I took a look at the Orlando weather forecast, only to see that thunderstorms are predicted for Saturday and Sunday. No big surprise... Orlando gets more rain than Seattle, yet Seattle somehow has the worse reputation for it. Since the weather today was perfect, I decided to rush through those rides I wanted to go on which would most be affected by the rain, namely Expedition Everest, Kali River Rapids, and Splash Mountain.
After a plate of delicious beignets, I got to Animal Kingdom just as they opened and went straight to Expedition Everest. The attraction is pretty hard to miss given the massive "Forbidden Mountain" they built for it, which can be seen from just about anywhere in the park...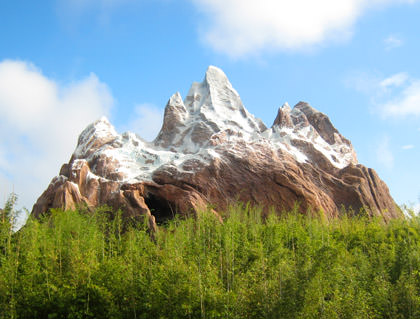 As far as roller coaster rides go... it's pretty tame. As far as an amazing attraction goes... it's incredible. You race around a mountain (forwards and backwards) for an encounter with a Yeti! And here I thought that Disney had forgotten how to make great theme park rides (after the massive pile of shit that California Adventure turned out to be, can you blame me? (with the exception of Grizzly River Run, Soarin', and Tower of Terror, it's a complete waste of time).
The theming of the entire area is impeccable... looking like a Himalayan village. The staging for the ride itself is very cool... created to be a Yeti museum. Every detail is perfect. It's everything you want out of a Disney E-Ticket attraction...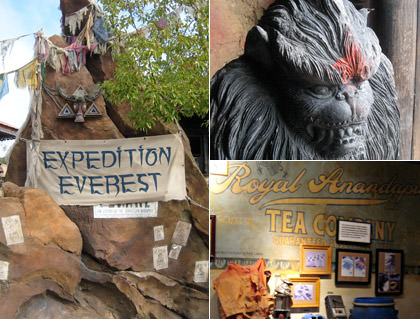 And it doesn't stop there. Disney meticulously sets the stage for the attraction in other areas of the park. Like this mountain range guide, which shows how Forbidden Mountain fits into the Himalayas...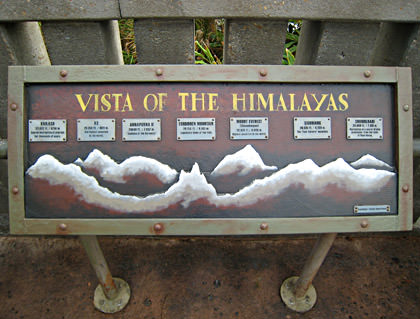 Since there was no line, I rode it twice, then went to get all wet on the Kali River Rapids, then came back and rode it two more times. You pretty much have to, because the experience is so rich. There are hundreds of tiny details that you miss if you only ride it once or twice.
Since I've already been to the rest of Animal Kingdom a few times (and find it completely boring) I then dashed over to Magic Kingdom for a little Pirates of the Caribbean and Splash Mountain action. I was then going to go back to my hotel and work for the rest of the day, but thought I would hit Space Mountain first. The lines everywhere were so short (max. 15 minutes) that it seemed crazy not to. After 6 or 7 minutes in line, I had just made it to the interior queue when something amazing happened. They had a problem with the ride and had to stop it. And then they turned on the lights. OMG! IT'S SPACE MOUNTAIN... WITH THE LIGHTS ON!!...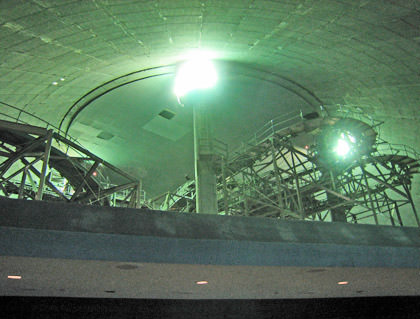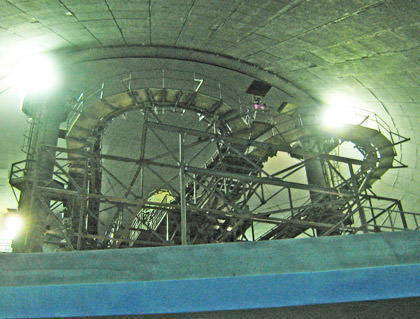 You can clearly see the dual mirror-image tracks that is unique to the Florida version of the ride (all the other Space Mountains have a single track). After making us wait for 20 minutes, they couldn't fix it, so they kicked us all out and gave us "Any Attraction Fast Passes" for our trouble.
After working for five hours, I met up with my friend Dale at Epcot for dinner. Since we arrived early and the lines were short, we decided to ride "Mission: SPACE." While not quite as well thought-out as Expedition Everest, this new ride is very well done and a lot of fun. They basically simulate a trip to Mars by sticking you in a centrifuge. Kind of like a giant Tilt-A-Whirl or Round-Up, but with a viewscreen and space ship controls. What's funny is that this ride has more warnings than any other I've seen, AND they have barf bags in front of every seat! How cool is that? I never thought I'd see barf bags on a Disney attraction, but there they were. I didn't get sick at all, but was a little woozy as I exited the "spacecraft." Dinner in France (at Epcot's World Showcase) was good, and we got out just as Epcot was shutting down. As we were leaving, we saw that Ellen's Energy Adventure was on last-call, so I convinced Dale we should go (I love that ride!).
ATTRACTIONS OF THE DAY...

• Expedition Everest (x4). One of the best US Disney attractions in years. Finally, Animal Kingdom has a decent ride! Wikipedia Link.

• Kali River Rapids. Disney tries to shoe-horn in an educational message about the destruction of the world's forests into this ride... and fails miserably. A good attraction, but not as much fun as the similar Grizzly River Rapids in California. Wikipedia Link.

• Pirates of the Caribbean. Like the Disneyland attraction, this ride was recently Johnny Depp enhanced to match with the Pirates trilogy of movies. I never cared for the Florida ride as much as the California original, because it just doesn't have the same atmosphere (Disneyland has the cool grotto with the restaurant and more interesting staging). Still, it's a good ride, and I never miss an opportunity to go on it. Wikipedia Link.

• Splash Mountain. Easily one of the best Disney attractions ever, I will never pass up an opportunity to ride Splash Mountain. The Florida version has side-by-side seating, which is a bit more comfortable than California's version... other than that, it's a fairly similar experience. Wikipedia Link.

• Mission: SPACE. A terrific addition to Epcot, this "Mission to Mars" simulator is another home-run attraction for Disney. I can see where the centrifuge action might make people sick (though I had no problems with it) so Disney has a "non-spinning" version for those who'd still like to experience it. I can't imagine it being nearly as fun, but it's a nice consideration. Features an appearance by Gary Sinise (Lieutenant Dan!) who is apparently reprising his character from the awful "Mission to Mars" movie. Wikipedia Link.

• Ellen's Energy Adventure. A moving theater ride that's really well done. I was an early fan of Ellen from the first time I saw her as a secretary on the Alison La Placa vehicle comedy series Open House. She's a genuinely funny person that never fails to entertain (at least when she's not crying about dog adoption). Having her host a Disney attraction is genius. Especially when it's an educational attraction where you need people to be entertained. What's so incredible here is that this ride was created before Ellen was really that famous. Before her sit-com, before she came out, before her talk-show. And during all that, "Ellen's Energy Adventure" has endured and still holds up well today. In fact, Ellen's continuing success has probably helped this attraction to survive (appearances by Alex Trebek, Jamie Lee Curtis, and Bill Nye the Science Guy don't hurt either). One of the best original attractions from when Epcot opened (and one of the few remaining!). Wikipedia Link.
And thus ends my second day in Walt Disney World. Tomorrow I'm sleeping in.