Last night I received a vicious blog comment which I immediately deleted. I woke up this morning wishing that I had published the darn thing for sheer entertainment value. Now I sit here wishing for the millionth time that the me of "right now" could talk to the me of yesterday. Not just because it would be a great way warn myself of upcoming embarrassing situations, but also because I'm a really good conversationalist. Alas, the power over space and time is not mine to be had, so I won't be enjoying the pleasure of my own conversation just yet. Though I still have a shot at schizophrenia, so fingers crossed.
Travel during the busy holiday season is an exercise in patience at a level I simply do not possess.
That's because people who rarely travel suddenly have an excuse to do so, and the airports are filled with an abundance of dumbasses. People who should just stay home instead of forcing their idiocy on public at large.
My first of three flights today was really bumpy. At least two people barfed on the way to Seattle, and one of those was directly across the aisle from me. I then spent the next 30 minutes trying to resist the urge to spew, because the smell of puke filled the plane. As an added bonus, the gum-smacking whore who upchucked next to me decided to stuff her little bag of puke under the seat in front of her and didn't bother to let the flight attendant know about it. So now there's a risk that when they clean the plane, they're going to accidentally spill vomit all over the place. If only there was a way that I could magically take that barf-bag and sneak it into her suitcase. Then when she got to wherever she was going it would be all "SURPRISE BITCH! REMEMBER ME?"
My second-leg flight to Chicago was purchased through my favorite airline, Alaska Air, but code-shared out to American Airlines. This doesn't bother me too much, except Alaska won't let me jump on one of their earlier flights because the ticket they sold me isn't for their airline (even though seats are available). Kind of makes me wonder why I bother to pay the extra money to buy tickets at AlaskaAir.com when there is clearly no benefit to doing so. Oh well. I had wanted to hop on an earlier plane to get a 4-1/2-hour layover at O'Hare so I could then take the train into the city for quick bite of pizza, but now I have to settle for a delicious Qdoba Veggie Burrito at SeaTac instead.
While waiting for my flight I watch one of the five episodes of The Soup I have saved up on my iPhone, then move on to Mitch Hedburg's Comedy Central stand-up special. I've seen it a hundred times, but never get tired of watching it. Then I feel sad for ten minutes when it sinks in (yet again) that Mitch is gone.
Despite the non-stop travel-party that is my life, I have no leverage at American Airlines. I can't get an upgrade or select the seat I want like I can with most of the other airlines. Fortunately, a really cool gate agent takes pity on me and manages to upgrade my middle seat at the ass-end of the plane to a bulkhead aisle seat with tons of legroom. I fall in love with her a little bit. I fantasize about taking her to Starbucks for some hot cocoa with peppermint sprinkles and then boarding the next flight to Bali where we spend a month living on the beach like bohemians and drinking too much rum.
The flight to Chicago was interesting, to say the least. Because sitting next to me is Arrogant Bitch and her husband Crotchety Old Fart. They were so fantastically bizarre and horrifying, that I could have easily made a blog posting entirely out of the crazy-ass crap that came out of their mouths. I've put a small sampling of their ramblings in an extended entry, if you think your heart can take it (be forewarned... the old bastard cusses constantly, so if foul language offends you, do not click through!). The cool part was that across the aisle from me was Tyrone, a beautiful and well-behaved 5-1/2 year-old seeing eye doggie...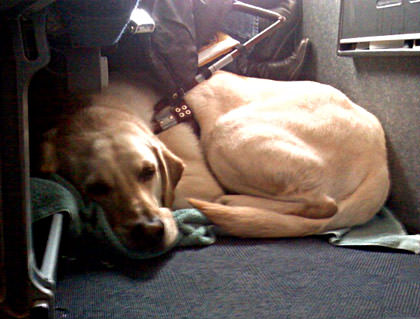 The poor thing stayed all scrunched up for the entire flight, which could not have been comfortable. But he took it like a trooper, and enjoyed a good stretch once he was finally able to move again. I remain in awe of these incredible animals who make life better for so many people.
After my adventures with Arrogant Bitch and Crotchety Old Fart came to an end, I ate ice cream and wandered around O'Hare while waiting for my one-hour flight to Pennsylvania. Nothing much happened, except I spilled a drop of chocolate ice cream on my iPhone and spent the next 10 minutes freaking out over whether or not any of it seeped into the magic button on the front. Fun times.
The flight out of Chicago was on an aircraft so narrow that I could very nearly hold out my arms and touch both sides of the plane. But never fear, the airline still managed to get 3 seats across that sucker! It was a fairly boring and pointless flight... at least until we landed. Here is one guy's idea of sitting down with his seat-belt completely fastened until the aircraft comes to a complete stop...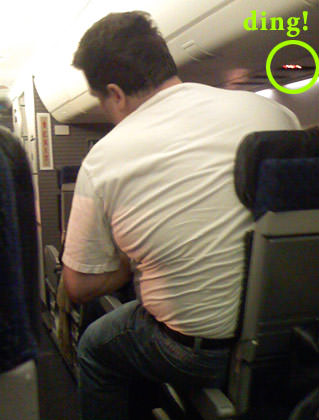 As I said, this is what you get during the holiday season.
And now, after eleven hours of travel, I am relaxing in my hotel room... preparing for my work tomorrow.
Well, not really relaxing, because this piece-of-crap "upscale" hotel is built so frickin' close to the highway that it sounds as if the traffic is driving through my room. Holy crap is it loud. In fact, after staying at hundreds of hotels around the world, I can honestly say that this is the loudest, noisiest hotel I have ever been to. And that's saying a lot. Especially since I once stayed in a Bourbon Street hotel during Mardi Gras. I'd say my odds of getting any sleep tonight are zero.
And there you have it. The end.
But not really, because Arrogant Bitch and Crotchety Old Fart are waiting for you in an extended entry!
Yeah, this is pretty messed up. And there's foul language. You're probably better off not reading it.
As a point of reference, here's Arrogant Bitch...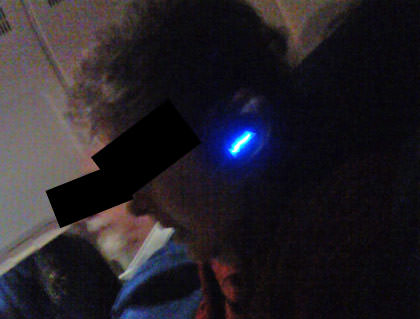 I call her "arrogant" because she considers herself above the rules. They don't pertain to her. When the seatbelt sign is illuminated because of turbulence, everybody else has to stay seated... but not her. That's when she decides to go to the bathroom. And do you see that blue light on her head? Yeah, that would be her Bluetooth wireless headset that was flashing in my face the entire trip. Never mind that wireless devices are strictly forbidden to be used during flight... the rules don't pertain to her, remember? She wants to listen to music from her Blackberry, and so fuck everybody else! Who cares if the signal interferes with the navigational equipment on the aircraft, because she wants to listen to her fucking music and just doesn't care if she causes the plane to crash!
And here's Crotchety Old Fart...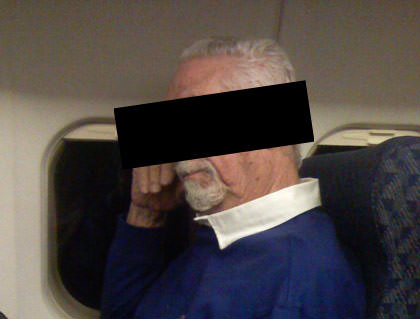 What a piece of work this asshole turned out to be.
And now, for your reading pleasure, is a selection of stunning observations and illuminating conversation I was madly typing into my iPhone as he was loudly blathering away for over three hours (to the best of my ability to capture them)...
When the cabin attendant asks for his cane so she can stow it in the overhead bin... What? You think I'm a terrorist going to kill people with my cane?
After returning from the bathroom... I swear to God I've never seen so many fat people together in one place at one time! What the fuck is it with all these fat people?
And two seconds later as he struggles to put his seatbelt around his gut... These seat-belts are too small! Fucking seatbelts!
He smelled like a toilet hole at a campground in summer, but that didn't stop him from making this observation... This plane smells like shit! It does!
And his take on the accommodations... This is the most uncomfortable fucking plane I've ever been on!
Looking over at Tyrone, the seeing-eye doggie... A dog. On a plane. That's weird!
After being asked by Arrogant Bitch if she was "going to have to listen to you complain the entire 4 hours?" he replies... No.
But less than a minute later he says... What the hell is wrong with my damn seat? I got a shitty seat!
After asking Arrogant Bitch where the movie screen was, and being told they don't show a movie on this flight... Well what the fuck am I supposed to look at for four hours?
And his birthday is coming up... In 8 days I'll be 86 years old. I look at all these people less than half my age and I wanna know what the fuck any of them will accomplish when they're my age. I've accomplished a lot!
And after Arrogant Bitch berated him for his non-stop absurdity... What the fuck? Why are you treating me like shit? At my age I shouldn't have to put up with this shit... I shouldn't have to put up with nothin'!
Then, 15 seconds later... I love you.
When his wife asked him about her getting to the bathrooms, he replied... They make you go all the way to the back of the fucking plane to use the bathroom when they've got bathrooms up to their asses up front. BATHROOMS UP THEIR ASSES!
Once Bitch is gone to the bathroom, a flight attendant doing a pre-landing check notices her purse on the ground. After she kindly tells Crotchety Old Fart that she has to stow it for landing, he says... You're not taking it! Give me that purse! I'll hold it in my lap!!
And, after the flight attendant explains that he can't hold it, and it must be stowed... GIVE ME THAT PURSE!!
After explaining, again, that it must be stowed, Arrogant Bitch comes back and tells her to stow it. You'd think that was the end, but not from where he's sitting... I TOLD HER TO GIVE ME YOUR FUCKING PURSE, BUT SHE WOULDN'T LISTEN TO ME!!!
While browsing through the SkyMall catalog... Look at all the shit in here. Would you look at all this shit?
But then a minute later... Hey look at this! I'd buy that in a minute!
A general observation about his fellow travelers... I am sick and fucking tired of all these people looking at you like they're... they're... you know!!
And when she asks him what people he's talking about... I dunno... all of them! ALL THE FUCKING PEOPLE HERE ON THIS PLANE!!
Once we've landed and start making our way slowly to the gate... Jesus Christ... where the fuck did we land?
When we come to a stop on the tarmac, the captain announces a small delay, to which Crotchety Old Fart says... What the fuck is the problem here?
After Arrogant Bitch tells him that the captain says there's a plane in our gate and we have to wait for them to leave before we can pull up... Well tell it to get the fuck out of our gate God dammit! These fuckin' airports! Dammit these fucking airports!
Yes. Charming guy isn't he? And you have to realize that he wasn't whispering... he was SPEAKING AT FULL VOLUME, so everybody got to share in the fun! I wish I could have typed faster, because I missed some great rants about nonsensical crap. Even better, I wish I could have had a tape recorder going for the entire flight. I could have edited it down to a full hour of utter genius and made him a podcasting superstar!
Can you believe that I have to do this all over again on Wednesday??