Where did this day go? Seriously, it's coming up on dinner-time and it feels like I just woke up a couple of hours ago. I know I went to work, but I didn't get nearly enough done. Must be a Bullet Sunday.
• Pole! What is it with the latest fitness trends that keep popping up, disappearing, then popping up again? I'm seeing ads (once again) for POLE DANCING as exercise. I could make a number of smart-ass comments here, but instead I decided to buy a pole and get into shape! Off I went to Amazon to get an instructional video... and imagine my surprise when I found out there's a whole world of slutty exercise programs to choose from!
And now I can't decide if I want to learn exotic dancing, pole dancing, lap dancing, or bump n' grind strip-dancing. My gut instinct is to stick with pole dancing, but I'm thinking there's more money to be made in lap dancing. At least that's always been the case when I'm paying for it. Because, hey, there's nothing to say a guy can't earn a little cash while getting into shape.
• South Park! Last night I finally had a chance to pull out my South Park: The Complete 10th Season DVD set and watch my second favorite episode of the series ever: Make Love, Not Warcraft (my all-time favorite being Christian Rock Hard). In addition to being hysterically funny, the episode is just so incredibly well made. I'd go so far as to say that it's practically flawless. Anybody who hasn't seen it should definitely take a look...
• WOW! Included with my new South Park DVD set, there was a free 14-day trial for World of Warcraft. This is a really brilliant idea, because after having watched that South Park episode, I was in the mood to give it a try. I had played the original WarCraft games but, since I am not so much into the whole "online massive multi-player" thing, I never tried WOW. And now that I have, I know what all the fuss is about. It's pretty sweet!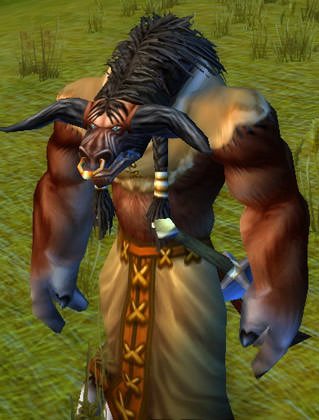 This is me! I'm a Tauren Shamen, which I picked because he looks badass cool.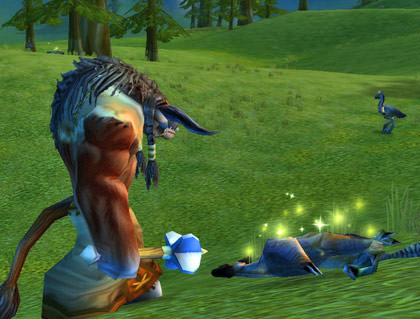 I use my mace to unleash my righteous fury on giant turkeys.

Then I figure out that I can shoot lightning, which I use to fry green pigs.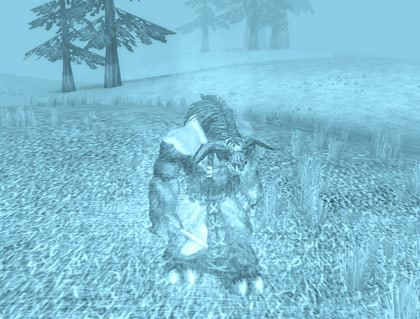 Oh shit! I'm dead!! I got my ass handed to me by a giant super-pig!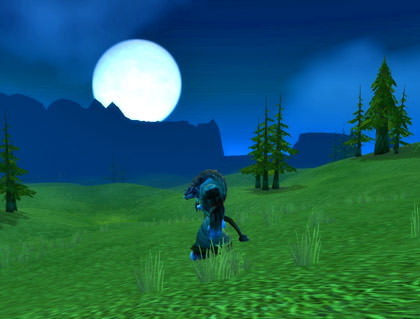 Oooh! The moon is all pretty and stuff.
For a while there, I was having me some fun... being all kick-ass by running around and killing giant turkeys and pigs and stuff. But then people started asking me to join their group every 15 minutes, and I didn't want to play anymore. I don't want to join a group. I'm busy all the time, and can't commit to playing with a group... I just want people to leave me alone. But I couldn't find a way to hang a big "DON'T ASK ME TO BE IN YOUR GROUP" sign around my neck, so I gave up and stopped playing. Oh well. Hopefully Blizzard will release Warcraft IV soon, so I can play alone. Of course, right now I'm more interested in Starcraft II, which is the sequel to my favorite Blizzard game of all time.
&bull Starbucks! I have written about the song I Love N.Y.E. by Badly Drawn Boy (from the amazing About A Boy movie soundtrack) a couple of times now (here and here). It's beautiful, magical, and I've always been puzzled as to why it was never nabbed for a television commercial. Well, somebody really smart in Starbucks' marketing department finally found it, and it's playing on a really cool animated ad for their calorie-laden holiday drinks (it's got penguins in it!). Beutifully done, Starbucks! If you're curious about this wonderful piece of music, you can take a listen at iTunes here.
• Ghost Rider! After goofing off with WOW, I capped off my evening by watching my Blu-Ray copy of Nicholas Cage in Ghost Rider. It's not a great film by any stretch of the imagination, but it is a fun movie to watch and has nifty special effects. The critics, of course, savaged the movie in their reviews (it mustered only 28% on Rotten Tomatoes), which is probably justified, but kind of lame since this was such an easy target. I mean, come on, it's got a flaming skeleton riding a motorcycle and Nicholas Cage in a hairpiece for crying out loud! At some point you have to just let go...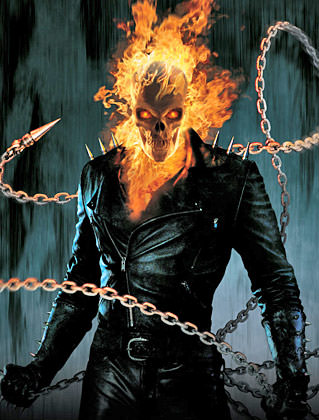 Besides, any movie that's got Sam Elliott and Peter Fonda in it can't be too bad!
And thus ends Bullet Sunday (though I've got a iTunes meme in an extended entry which was tagged me by James). Tomorrow I'm traveling cross-country, so my entry for Monday will be posted pretty late. For anybody interested, I'll be updating my journey throughout the day via DaveStalker™, so feel free to travel along with me if you've got nothing better to do.
The iTunes Meme!
How many total songs?
4749 songs (all legal!), which iTunes says is 14.5 days worth.
Sort by song title - first and last...
Aberdeen by Ari Hest and 1979 by Smashing Pumpkins.
Sort by time - shortest and longest...
Exit Stage Right by Badly Draw Boy from the About a Boy Soundtrack at 22 seconds, and Machines Take Me Over/Down Tools by the Thompson Twins (which is a remix of You Take Me Up from their Into The Gap album) at 11 minutes, 37 seconds.
Sort by Album - first and last...
About a Boy Soundtrack by Badly Drawn Boy and 101 by Depeche Mode.
Sort by Artist - first and last...
a-ha is first, and 20/20 is last.
Top five played songs...
Mercy in You by Depeche Mode, You Surround Me by Erasure, Higher Love by Depeche Mode, Breathe by Erasure, and Just Like Honey by The Jesus and Mary Chain.
Find the following words. How many songs show up?
Sex: 12, Death: 4, Love: 389, You: 721, Home: 22, Boy: 261, Girl: 85.
First five songs that come up on Party Shuffle...
Dangerous (Sensual Mix) by Depeche Mode, What I Like About You by The Romantics, Flamboyant by Pet Shop Boys, Return to Innocence by Enigma, and Souvenir by Orchestral Manoeuvers In The Dark.