I am not a "light sleeper"... honest I'm not.
There's a train crossing not far from my home, and I can sleep through blaring train whistles no problem. I regularly stay at hotels that are at an airport with jets rumbling overhead at regular intervals. I've even stayed at hotels off the highway where a decent amount of road noise was present while I got some sleep.
But last night was something entirely different.
I don't know whether it was the acoustics... or the building construction... or the lack of interference between my room and the highway... or whatever. All I know is that it was the noisiest, most miserable hotel visit I have ever had in 22 years of travel across the globe. From the swankiest 5-star palaces to the most disgusting 0-star hovels, NONE of them even come close to the audio assault I experienced every frickin' minute I was at this hotel.
For some reason, this highway outside my window...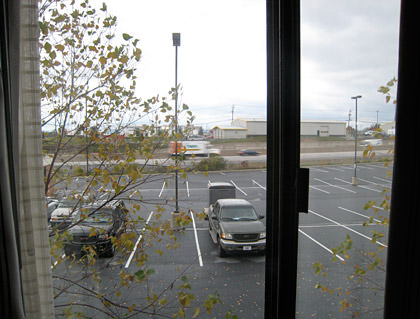 Caused me to finally end up sleeping here...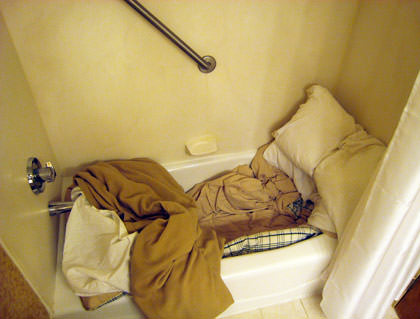 I shit you not.
After 4-1/2 hours of trying everything I could think of to eliminate the noise, I finally took all my bedding to the bathroom, threw it in the bathtub, turned on the fan, then squeezed into the tub. I managed to get 2 hours of very uncomfortable sleep, but it was better than nothing. Especially since I had a full day (and then some) of work to face today.
Now I have to ask... what kind of f#@%ed-up hotel has rooms that are so noisy that turning on the television, starting up the air conditioner, and wearing noise-blocking headphones while music plays from your iPhone, is STILL not enough to block the highway noise so you can get some sleep?? The only way I could block the racket was to have even LOUDER noise happening, which doesn't help matters at all.
This morning I checked out of my big-name pricey hotel, canceled my second day stay, and moved to a crappier, cheaper chain hotel near the airport.
Which is paradise by comparison.
So you'll forgive me if I don't blog anything interesting or draw a cartoon or go commenting on blogs tonight... I'm just too frickin' tired.
And a little more than excited that I'm not sleeping in a bathtub tonight.