Well that sucked ass. One trip down, three to go before the end of the year (and still three more in January). I'm so happy I think I might die. If I don't drop into a sleep-deprived coma first.
I keep re-living the horror of having to sleep in a bathtub Monday night. And every time I do, I think back to Tyrone the seeing-eye dog and how he had to stay all scrunched up under two people's feet for 3-1/2 hours on a plane and wonder if doggies retain memories of bad things in their lives, or if they just forget about them the minute they've ended. If that's the case, I really envy dogs.
A lot of crap happened in the past three days and, since I haven't been around, so we're going to catch up bullet-style...
• Mind the Gap. As an American bloke fascinated by foreign accents, I have no problem admitting that I'm a little smitten by the lovely voice of the London Underground announcements every time I visit. Turns out the lovely woman who creates them, Emma Clarke, was recently fired because of some comments that came out of a series of spoof Underground announcements she did for her site (and don't overlook her blog, which is great). This makes me very sad, and I hope that this terrible mistake is soon rectified so I can be happy again...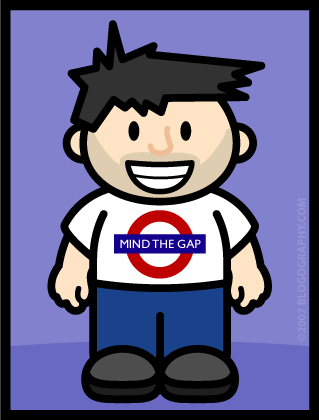 • Olympical. Turns out not all international news is bad. Beautiful Vancouver, BC (my neighbor to the north) has just released the mascots for the 2010 Olympic Games, and they're great! Whoever came up with the idea of using a sasquatch as mascot is a frickin' genius. I cannot wait until they start selling Quatchi plush toys...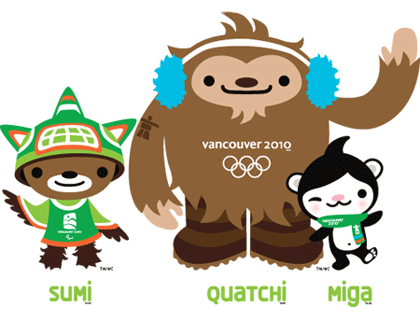 • Macintosh Bargains. Just dropped a nice chunk of cash at the European-Indie Programmers "Give Good Food to your Mac Promotion," which has a line-up of incredible Macintosh programs at ridiculous bundle prices (anywhere from 30% to 70% off depending on how much you buy). These are not crappy bottom-drawer apps that nobody wants, they're all high-quality, totally professional releases you can't live without! I bought an even dozen... some I probably don't need but, at 70% off, I couldn't resist.
• Kindling. Finally got to play with an Amazon Kindle digital book. It's worse than I thought, which is pretty bad. In a day and age where the bar for stunning design in physical structure, user interface, and usability has been set so incredibly high (thanks Apple!)... how can companies release such total crap and think people won't notice? Here was an opportunity to finally get digital book distribution just the boost it needed to go mainstream, and Amazon totally dropped the ball. Tragic. If you are considering the purchase of one of these DRM-laden, hideously expensive, ugly-as-sin monstrosities... I highly recommend seeing one in person before parting with your hard-earned money.
• Daisies. Yet another amazing episode of Pushing Daisies is unfolding tonight. I sure hope the rumors of the writers strike being settled are true, because I needs me the new television shows! Death by pink goo... what a way to go.
And with that, I should probably get some sleep. I've got a full day tomorrow before heading out again.