So Amazon has finally released their long-awaited electronic book reader, which they've name "Kindle." Given how often I travel, I've long been waiting for this day. The idea of being able to download books at a moment's notice is appealing to somebody whose entire life is lived "at a moment's notice." But, as a lover of books, giving up the printed word is a scary prospect. Reading a computer monitor is not nearly as comfortable as reading ink on paper, no matter what other advantages an "e-book" might have.
Then comes "electronic paper" or "e-paper."
This invention allows for a display which is much more like a printed page than a computer monitor. Suddenly the technology to create an e-book that reads like a real book has arrived. A few companies jump on board, like Sony, who creates a product that looks like a winner. Except it's not Mac compatible, and so I wouldn't know.
But Kindle doesn't need a computer... PC or Mac... because it connects to the Amazon store wirelessly. That's a pretty smart move.
Unfortunately, it's about the only smart move Amazon made. Kindle is way too expensive ($400!), it can't accept open formats like DOC files or PDFs without paying Amazon for conversion and, most important of all, IT'S BUTT-UGLY! Seriously butt-ugly...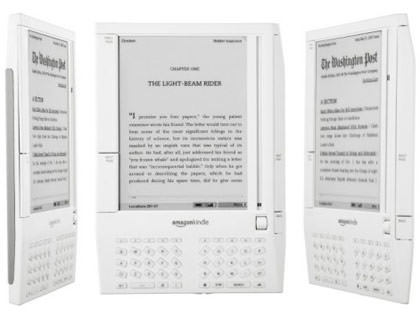 In a day and age when Apple is making a killing by creating devices so beautiful that they're practically a fashion accessory, Amazon has chosen to release a product that looks like something out of 1970's. And not in a good "retro" way, but in a "holy crap does that look like shit" way. The asymmetrical lines are horrifying, making the device look like somebody sat on it. I suppose it was designed this way to facilitate better usability, but watching the demo videos doesn't give me this impression at all.
Perhaps if Kindle was half the price, I wouldn't mind so much. But $400 for something that looks like this?
No thanks. For that kind of bank, it had better be iPhone-like beautiful. Because I'm vain that way.
If only Apple designed the world, we wouldn't have to be made to suffer like this.