It's Bullet Sunday after a dreary week of work, work, and more work.
• Ironic... My new Blu-Ray player was delayed, so I'm sitting here with a stack of Blu-Ray movies and nothing to watch them on. I'm jonesing for a Ratatouille and 300 fix! In other HD news, I was very happy to find out that you can have Netflix automatically send Hi-Def versions of your selections (in either Blu-Ray or HD-DVD format) simply by updating your profile. Sweet!
• Electronic... FOX is releasing posters for the new Terminator: The Sarah Connor Chronicles, and they're delicious...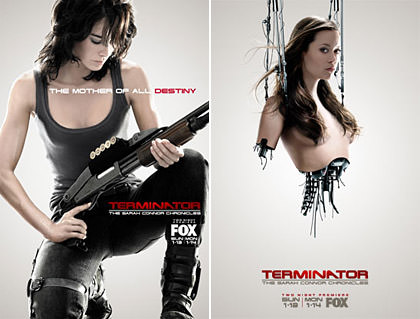 Hmmm... that second poster looks a little Borg-Queen-esque from Star Trek: First Contact. The series debuts on January 13th, though I have no idea if the writer's strike will change that. More info can be found on the FOX website.
• Idiotic... I have the movie Idiocracy playing while I'm blogging. It's a Mike Judge comedy starring Luke Wilson about how in the future everybody is stupid and the country is run by idiots. We're half-way there already.
• Moronic... If people want to criticize me or my blog, I honestly have no problem with that. Everybody is entitled to their opinion, and I invited this kind of scrutiny the minute I put myself on the internet. But why is it that 99% of these people sound so stupid? They don't know how to construct a proper sentence, and can't spell to save their life (despite the fact that they undoubtedly have spell-check). It's getting increasingly difficult to respond to these dumbasses because I can't even figure out what the hell they're trying to say. I'm told that this is a generational thing, and kids who grow up in the age of TXT messaging and IM have a language all their own. This may be true, but it's not that I can't decipher their TXT-speak, it's that their message is so obtuse. How can I have respect for these people when they can't express themselves in any meaningful way? Besides, I don't buy it. I know plenty of kids who are able to get their point across... even in TXT-speak. Perhaps the blogosphere just attracts idiots, I dunno. Maybe the future really is now.
• Harmonic... The Superficial has posted some shots of the sublime Elizabeth Hurley as she attended Elton John's AIDS foundation benefit...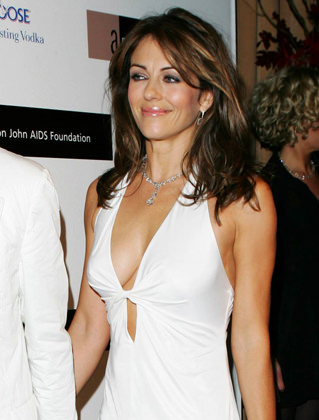 Stunning as always. More delicious photos of Liz can be found here.
• Iconic... I installed the first update for MacOS X Leopard and was dismayed that the icon preview bug hasn't been fixed. This is a major, major problem for me, as I use the icons to visually identify Adobe Illustrator files (I go to the trouble of saving PDF previews with all my files specifically for this purpose). Problem is, this is all I see in Leopard...

Yet, if I do a Spotlight search on the same files, the icon previews mysteriously appears...

APPLE, PLEASE FIX THIS!! I need my icon previews back.
• Demonic... How hard does Ray Wise rock playing The Devil on Reaper? I like the show and all, but he's the reason I find myself tuning in each week...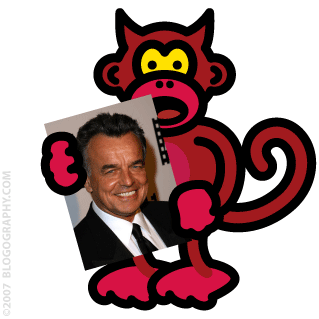 • Ultrasonic... Crossing my fingers for Tron 2, baby!
And that wraps up the last installment of Bullet Sunday before we become hopelessly mired in the horrors of the holiday season. I so wish I could fast-forward to January.