I'M BILLY MAYS, HERE TO DRIVE YOU INSANE WITH YET ANOTHER ONE OF MY HORRENDOUSLY ANNOYING COMMERCIALS!
NOBODY MAKES YOU WANT TO KILL YOURSELF MORE THAN BILLY MAYS!! LISTEN TO ME AS I SCREAM NON-STOP WHILE REMOVING STAINS USING THE AMAZING POWER OF OXYGEN IN OXYCLEAN!! AND THAT'S NOT ALL! I'LL BE BACK IN FIFTEEN MINUTES YELLING MY HEAD OFF WHILE I SHARPEN KNIVES USING THE INCREDIBLE SAMURAI SHARK KNIFE SHARPENING SYSTEM! STILL NOT ENOUGH?? THEN TUNE IN TWENTY MINUTES AFTER THAT WHEN I'LL BE SHOUTING ABOUT ORANGE GLO WOOD CARE PRODUCTS!!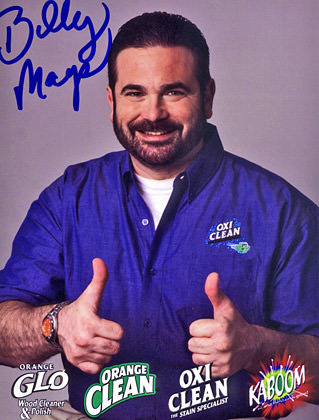 PHOTO TAKEN FROM BILLY MAYS MAYHEM!
YOU CAN'T AVOID ME!! I'M BILLY MAYS! I'M ON EVERY FUCKING CHANNEL EVERY FUCKING HOUR OF EVERY FUCKING DAY ADVERTISING EVERY FUCKING PRODUCT EVER MADE!! BECAUSE I'M BILLY FUCKING MAYS, DAMMIT!!!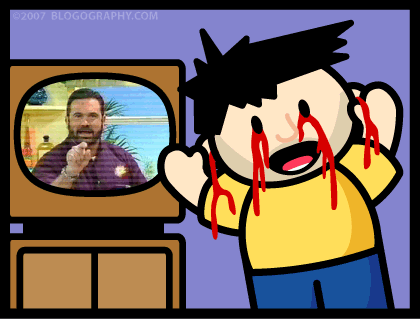 BILLY MAYS!!!