For better or worse, I'm an early adopter.
I love tech gadgetry, and have always put myself on the bleeding edge of new technology... from computers, phones, and cameras, to stereos, media players, and video games. I am always seeking out the newest of the new to play with. Sometimes I get burned (MiniDisc Music Player, Apple QuickTake Camera, Panasonic Recordable DVD Player, to name a few) but overall I've been happy with my decision to be first out of the gate (and so are my friends and family, because they get the "old" equipment it replaces).
I was one of the first people in Washington State to own a DVD player. It was one of seven Sony reference players sold in Seattle, and cost just under $2000 once I got everything I needed. Sure that's a lot of money, but when a friend and I were invited to a technology demo of DVD in early 1997, I simply could not resist. The quality was such a huge leap over VHS tape that a total movie whore like myself was compelled to purchase it. As it turns out, this was money well-spent. My Sony DVP-S7000 player has been in service for almost 11 years now, surpassing the PIECE OF SHIT Panasonic Recordable DVD Player I bought a while back which never once managed to record a single DVD, despite two trips to the repair shop (which is why I will never buy from Panasonic again). I still curse director Kevin Smith for that mistake, because it was his advertisements that led me to buy Panasonic.
Buying into DVD was an easy decision. It was superior to anything else out there (including my LaserDisc player... also an early adopter purchase), and was clearly the future of the home theater experience. I wasn't the least bit worried about investing in the technology, because all the major manufacturers and studios endorsed it. This was probably one of the safest bets I had ever made.
Buying into Blu-Ray was not an easy decision. Mostly because manufacturers and studios are split between endorsing Blu-Ray and a competing format, HD-DVD. Choose wrong, and it's the Betamax vs. VHS tape format war all over again... and somebody is going to lose. That time, it was Sony's Beta that lost, so jumping onto their Blu-Ray format was not a sure bet. So I waited.
But soon it became clear that there wasn't going to be an early victory in the format war. Blu-Ray and HD-DVD were both surviving at a near-equal pace. This was going to be a long, very stupid, drawn-out battle, and if I didn't choose a side I would be waiting quite a while. So a few weeks ago I decided on Blu-Ray, because that's where Disney-Pixar was at. I wanted to buy their brilliant new film Ratatouille in Hi-Def, and you couldn't get it on HD-DVD. So I ordered a Samsung BD-P1400 player at $369 (which has subsequently dropped at many vendors to $339 because of Black Friday).
The player itself is good, but not great. The biggest problem was that the BD-P1400 did not come with an actual hi-def cable! So right out of the box, I couldn't see the Blu-Ray movies I bought in the way they were meant to be seen. This brought up the nightmare of cable-shopping, because they are SO FREAKIN' EXPENSIVE! The cheapest HDMI cable I could find locally was $79! Fortunately, the good people at Optimized Cable Company had what I wanted at $19.95 (quick shipping...highly recommend). A few days later, and I was in business.
PROS...
The picture and sound are incredible. The clarity and detail in the picture has to be seen to be believed. This all came to light when I watched Terminator 2. At first, I thought the picture was just a little better. But then I played the same movie on "regular" DVD and started switching between the two. The difference was astounding. Tiny details like hair and other small elements were noticeably blurrier when I dropped out of Blu-Ray. Since I can't do a screen capture of Blu-Ray (yet), I decided to simulate what a very small Terminator looks like when extracted from a scene and blown up. It's something like this...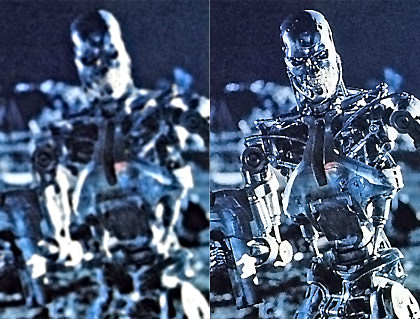 Simulated DVD Enlargement on the left, simulated Blu-Ray enlargement on the right.
Of course, the quality of the picture is wholly dependent on the source material. My Blu-Ray movie of Superman II, The Richard Donner Cut is an older film with noticeable softness and grain. Blu-Ray actually seems to make this more noticeable, because it presents such flaws so clearly. On the other hand, for movies like Ratatouille, which was a 100% digital conversion, there are -zero- flaws, and the picture quality is jaw-dropping spectacular.
CONS...
For reasons that totally escape me, Blu-Ray movies takes FOREVER to start up. Unlike a DVD player where you drop in the disc and can start watching immediately, Blu-Ray has a lot of waiting. At first I thought it was my Samsung BD-1400 that was to blame, but a quick check in online forums shows that this is a common problem in all hi-def players. This is really frustrating, and difficult to comprehend. Three steps forward in quality, one step backwards in convenience. Other than excessive waits for menus and such, the only other quality problem I've noted is occasional stuttering in some movies. It's very quick, so it's not too distracting, but can be irritating. Hopefully a future firmware upgrade will help solve this. But the biggest con? Some hi-def titles are not available on Blu-Ray, the studio having chosen to go the HD-DVD route. This includes many favorites (like the remastered Star Trek: The Original Series) and is kind of a bummer. Not wanting to buy a new film on the older format when not available for Blu-Ray, I've decided to rent them on Netflix until a Blu-Ray version is (hopefully) released. I suppose I could buy a second HD-DVD player (or a new combi-player) but really don't want to divide my media like that.
The worst part of switching from DVD to Blu-Ray is my existing library of now-antiquated DVD movies, because it's not like I am going to run out and re-buy my entire collection again. Fortunately, the BD-1400 has "upconverter" technology which makes my old DVDs look pretty darn good, so this is not much of an issue for me. I'll re-buy some of my favorites, and absolutely buy new titles in Blu-Ray... but the bulk of my collection with remain in "regular" DVD.
In the end, I am happy to recommend Blu-Ray over DVD. I am not, however, ready to recommend Blu-Ray over HD-DVD. The quality is reported to be about the same, so it's a personal choice as to which road to take. Many people might want to wait for the "combi-players" to come out so they can play either... but if you want to go with a single HD format, the choice will have to be made as to which has more movies and studio support that you're interested in.
Am I happy with my decision? Sure.
Am I confident I backed the right Hi-Def format? I have no idea.
In the meanwhile, I'll be enjoying the stunning quality and terrific sound that Blu-Ray offers. Movies at home have never looked better.