As I have no doubt mentioned many times before, I loathe shopping and avoid it like the plague. If I need something, I'll visit a physical store only as a last resort, preferring to buy stuff on the internet whenever possible. Well, today it finally became unavoidable, and a shopping expedition into the nearby city of Wenatchee was required...
...on one of the worst days of the year to be doing so, the day before Thanksgiving (with the very worst day obviously being Black Friday, the day after Thanksgiving).
Anyway, here's my shopping for the day...
Folding Door Runner: My closet door broked, so I had to buy a replacement piece at Home Depot. Just like every other time I've been here, trying to find anything in this massive store is nigh impossible when you can't get somebody to help you. After 15 minutes of getting nowhere, I finally turn to leave in disgust when some guy on his lunch break is walking through and tells me where to go. It was the wrong aisle, but eventually I DO find my runner. I'm off to a terrible start.
Pizza: I had a coupon for Papa Murphy's, so I dropped by to get a Cheese Pizza for dinner on Friday.
String Cheese: I went to Costco specifically to find these incredible Multigrain Tortilla Chips from FoodShouldTasteGood...
When I couldn't find the chips, I was determined not to leave empty-handed and ended up getting a 60-pack of string cheese. As much as I love string cheese, this will probably last me into February.
Peppermint Crunch Junior Mints: I may not celebrate Christmas, but I'm not about to pass up on delicious holiday treats because of it! Food Pavilion always has a nifty selection of seasonal sweets, so I dropped by and found new Crunchy Junior Mints. They aren't as crunchy as the packaging would have you believe (they need bigger pieces of candy on the top for that), but they're still killer good...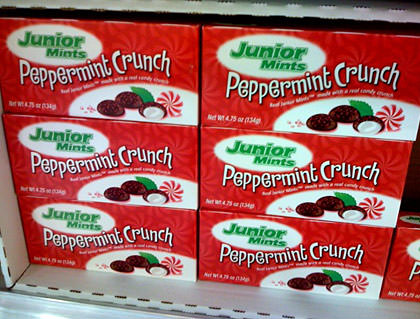 Black Bean Chipotle Gardenburgers: My favorite frozen veggie burger is the Black Bean Chipotle patties from Gardenburger. I love them. LOVE THEM!! Then two months ago I couldn't find them anymore. And I looked everywhere. I stopped at every grocery store I could find in every city I went to. Ultimately, I figured that they must have been discontinued (even though they're still listed on the Gardenburger site). On a whim, I decided to look at Food Pavilion after I got my crunchy mints. I nearly broke down in tears when I looked into the freezer case and saw them there staring back at me. I bought all ten boxes they had...
Please, please, please tell me that these are not the last Black Bean Chipotle Gardenburgers on earth. My heart cannot take losing Coke with Lime AND my beloved burgers too. The bad news is that my freezer is now totally full. Beyond full. If I find anymore Black Bean Chipotle Gardenburgers, I won't be able to buy them until I eat some of the ones I already have. Or throw out the chocolate ice cream. What a dilemma that would be.
And that was all the shopping I could stand for the day. For the month, really.
Of course, there's only one thing worse than shopping during the holidays, and that would be traveling during the holidays. Knowing that I have not one, but two trips coming up makes me want to scream... then cry... then drink until I pass out.
Instead I'm going to write up a business proposal, sketch out some design concepts, answer my backlog of email, then go to bed.
Right after I eat some string cheese. One down, fifty-nine to go...