Variety has just released the news that the one and only Simon Pegg has signed on to play "Scotty" in J.J. Abram's forthcoming Star Trek film. I didn't think that they could top Zachary Quinto playing "Spock," but this is an absolute genius move. Of course, a terrific cast doesn't guarantee that the movie isn't going to suck ass, but it's certainly looking good so far.
And speaking of good things...
The second episode of Pushing Daisies was absolutely incredible. The show is like a work of art that sucks you into a beautiful, quirky world from which you don't want to escape. I can't think of another show on TV that keeps me smiling from beginning to end like this, and leaves me feeling happy for no reason at all...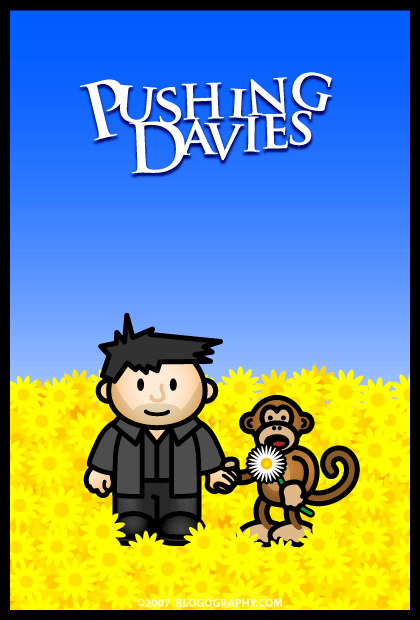 Of course, this most certainly means that ABC will cancel it, so I have no idea why I'm getting so attached.
Bastard television networks.
Today I was looking through some old papers in a futile attempt to find an important document I've lost. Never saw it, but I found all kinds of crazy stuff that I didn't even know I kept... my favorite discovery being a photocopy of a cartoon I drew years ago. The Sam & Max video game had finally been released for Macintosh, and I was so happy that I drew my own Sam & Max adventure so that I could attach my personal check to it for payment...
But that's only half as entertaining as my most favorite spam ever...
To: Abby U. Shaver
From: Mia X. Randle
Subject: Does your penis size ruin your life? Our product will stop that!

Have they ever told you this, "Damn it! Your penis is so small!"?
Didn't you just wanna run away?
Don't let women choose sexual toys but not you! Megadik will make you a real man! You must believe in this wonderful preparation!
"Gush! Your penis is impressive!" Isn't that what you just love to hear?
Soon you'll be the only one ladies will want! Megadik is your magic weapon!
The check is in the mail, baby... the check is in the mail...