Bleh. I hate to shop, but had to drive into the city this afternoon so I could run some errands. Usually I would pick a week-day to avoid the crowds, but I didn't have any choice. What a mistake that turned out to be. The mall was frickin' nuts. By the time I got home, I was ready to beat my head against a wall, drink a fifth of vodka, take a handful of sleeping pills, and go into a nice relaxing coma.
In better news, tomorrow is my grandmother's 90th birthday! She's one of the best people I know, and I love her more than my iPhone!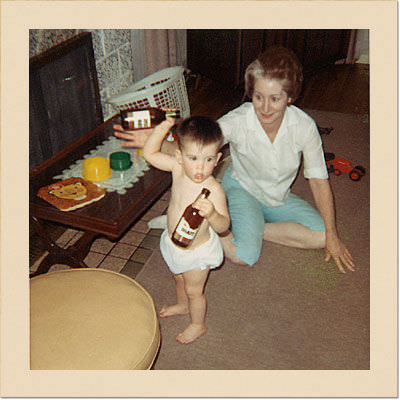 Grandma helping me with my drinking skills during those early years.
Since my grandmother is a hardcore Seattle Mariners baseball fan, we thought it would be fun to surprise her with a Mariners decorated birthday cake. I printed out the Mariner's logo from their web site and gave it to my mother so she could have one made. When she ordered it, she handed over the logo and asked for "Happy Birthday" to be written across the bottom. Today she went to pick it up, and this is what we got...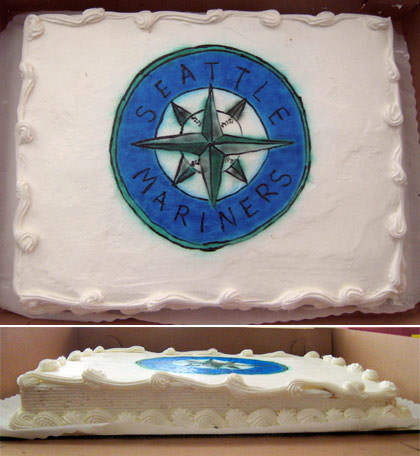 Uhhhh... yeah. I suppose it wouldn't have been so awful if the entire cake wasn't all lopsided. Obviously, we couldn't serve something so heinous for such a special occasion, so we started making desperate phone calls to see if somebody could make us a new cake. That's when we found out that it's illegal for cake decorators to use copyrighted materials (like the Seattle Mariner's logo) to decorate their cakes. Oops.
So I decided for the bakery to just write "Happy Birthday" on the cake and put a border around it. Then I'd go ahead and add the logo myself. The problem is that none of the logos I found on the internet were of high enough resolution to print out for a cake. I thought somebody must have an EPS vector graphic online somewhere, but Googling turned up nothing. I finally gave up and just drew it myself. I tried to find a font to write "Seattle Mariners" around the logo, but couldn't find one that looked right. Ultimately I had to create my own typeface as well...

To make sure there would be no mistake with how we wanted the cake to look this time, here's what I handed over to the bakery...

Logo © ™ ® by the Seattle Mariners
I wrote a note asking them to please do everything except the logo since I'll be adding that myself. I pick up the cake tomorrow morning, so I guess we'll see what happens.
What's cool is that last week I found some officially licensed party supplies to match the cake...

Merchandise © ™ ® by the Seattle Mariners
What's not cool is how much money officially licensed party crap costs! TWENTY-FIVE DOLLARS?!? I suppose that they have to pay those billion-dollar sports salaries somehow, but TWENTY-FIVE DOLLARS?!? You'd think for that kind of money that the Party Pack would include an actual Seattle Mariner baseball player... or maybe even an Ichiro bobble-head... but you'd be wrong. All you get are plates, napkins, cups, and forks.
That's a pity, because an Ichiro bobble-head would have been totally sweet.